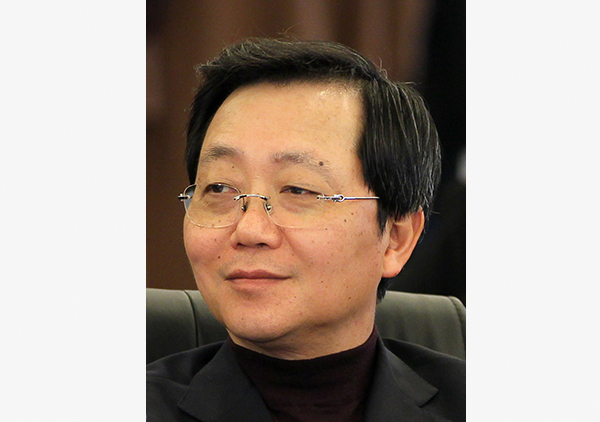 Xu Lirong, chairman of COSCO Shipping. [Photo provided to China Daily]
China COSCO Shipping Co, the country's largest shipping company by fleet size, on Wednesday announced it will invest another 500 million euros ($553 million) in Greece's Piraeus Port after officially becoming the port's majority shareholder earlier this week.
Under the plan, COSCO Shipping will build a port to berth cruise liners and a large-scale passenger transport center that could contain up to 10,000 people, to diversify the port's business services.
It will become one of the world's largest cruise home-ports by both passenger capacity and service infrastructure.
The Chinese company will also invest to build new ports for container ships and vehicle ro-ro carriers in Piraeus Port.
Shipbuilding and ship maintenance facilities will also be constructed soon.
Xu Lirong, chairman of COSCO Shipping, said the investment will create up to 31,000 jobs in Greece and raise the country's output value from the logistics industry from 400 million euros to 2.5 billion euros over the long-term run.
"Other facilities such as new docks to build ships and offshore engineering products, as well as new parking areas, will help Greece improve its manufacturing ability and build Piraeus Port as a major vehicle transfer terminal in the Mediterranean region," Xu said when Greek Prime Minister Alexis Tsipras visited the group's headquarters in Shanghai.
Piraeus Port is already a strategic partner with multinational giants such as US electronics company Hewlett-Packard Co and Chinese network equipment manufacturer Huawei Technologies Co for the maritime distribution of their products to Europe, northern African countries and the Middle East.
Tsipras said running such a big port in Greece can further ensure COSCO Shipping's sailing schedules, cut shipping costs and expand business networks of the company's port business in southern Europe, as well as promoting trade between China and European nations.
Eager to gain more market share, COSCO Shipping has set a goal to enlarge the port's handling capacity from 3.36 million 20-foot equivalent container units in 2015 to 10 million TEUs a year in the future.
The Chinese shipping giant so far has invested 350 million euros in Piraeus Port.
Chen Yingming, executive vice-president of Shanghai-based China Ports and Harbors Association, said the Mediterranean is a key European entry point for Chinese products such as clothing, machines, household appliances, vehicle parts and industrial yarn, as well as automobiles from Japan and South Korea.