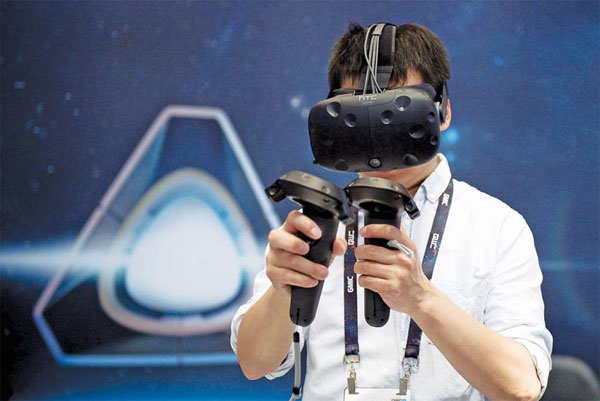 A man plays a video game on a virtual reality device during the Global Mobile Internet Conference in Beijing on April 28, 2016. GMIC hosts mobile executives, entrepreneurs, developers and investors from around the world. [Photo/AFP]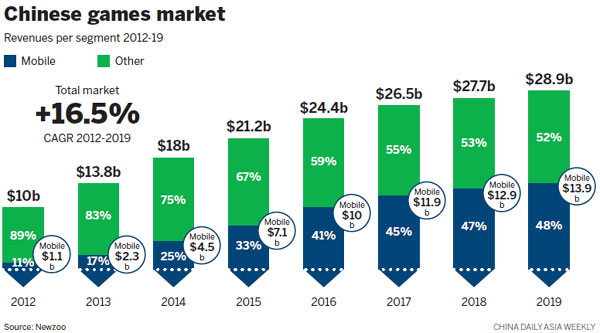 Personal computers continue to be the dominant device for online gaming in China, but mobile games are now starting to close the gap.
In 2012, mobile devices accounted for just 5.4 percent of all gaming in China. Last year, they accounted for 36.6 percent, according to digital games data analysis firm DataEye.
One of the most significant trends in the mobile gaming space last year was the entry of China's top online PC gaming companies, according to a report published in April by Forbes.
The report said the top seven companies, including NetEase, Tencent and Giant, released more than 150 mobile games last year. Of these, Tencent and NetEase accounted for the top 10 titles.
"This was a big move for China's top online PC gaming companies: While Tencent has previously showed interest in mobile gaming, the rest of China's gaming giants had largely steered clear of the mobile space, staying focused on the bigger portion of games revenue, PC online games," Forbes said.
"The top seven's expansion into mobile gaming serves as powerful validation that mobile gaming is a space worthy of their efforts, and it will be interesting to watch how the big players shape their mobile gaming presence moving forward," it said.
Jelle Kooistra, head of product development at Newzoo Mobile, a division of research firm Newzoo, said the rapid increase in internet and smartphone penetration is one of the main reasons for the growth of mobile games.
This is true not only in China but throughout Asia, Kooistra said.
He further said many parts of Asia are also "mobile-first" regions, where most people do not own PCs or consoles, and hence play games on mobile devices.
"As a result, the share of money spent on mobile games versus other devices is much higher in Asia than in other regions," Kooistra said.
"In China, core PC gamers are shifting part of their game spending from PC to mobile, pushing up mobile revenues in China, and subsequently, all of Asia."
Kooistra said within the next few years most of the growth in mobile games in Asia, expected to be worth around $9 billion, will come from China.
"This growth is (already) driven by the increasing smartphone and mobile internet penetration, as well as growing economies and wealth."
According to a research report by Newzoo and its strategic alliance partner TalkingData, there were more than 16,500 mobile games across the many Chinese app stores last year, with more than 50 percent falling into the casual and card genres.
This was reflected by the genres that saw the most new launches last year, with role-playing games or RPG and strategy games representing half of the total, while casual and card games represented only 30 percent.
"This surge in RPG and strategy games on mobile is exemplified by NetEase's Fantasy Westward Journey, a longstanding PC game that was launched on mobile devices last year in response to the audience migrating between platforms," according to the Newzoo and TalkingData report.
With China now comfortably emerging as one of the biggest mobile markets in the world, Chinese mobile device makers are also increasingly fighting one another overseas.
Newzoo's Global Mobile Device Intelligence service, which tracks close to 2 billion monthly active iOS and Android devices across the world, shows different device manufacturers are winning wars on different fronts.
While Xiaomi is in a fierce battle with Huawei for local dominance in China, the company's recent disappointing financial performance is reflected in its underwhelming overseas success, where Huawei currently rules the roost, according to Newzoo's data.
Though it has not found a way to the number one slot in foreign markets yet, OnePlus-a smartphone maker based in Shenzhen in South China's Guangdong province-is quietly performing well abroad. This puts it on course to become the breakout brand from the country's device scene.
Although Chinese handset manufacturers are doing well in China, "it is important to point out that Apple is clearly the top device brand (in the country)", according to a Global Mobile Device Intelligence report published by Newzoo earlier this month.