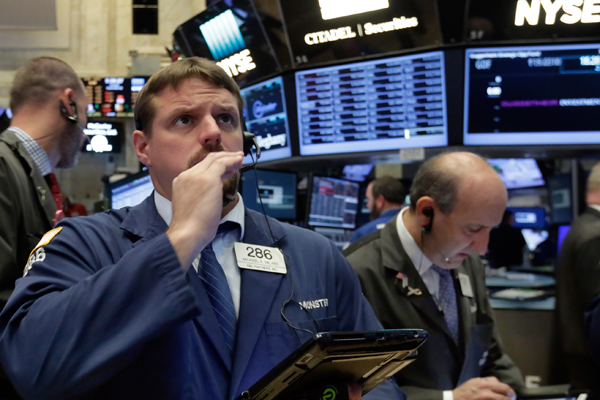 Trader Michael Milano, center, works on the floor of the New York Stock Exchange. [Photo/AP]
A skeptical A-share market will continue to be cautious in the first week after the National Day holiday (Oct 1-7), analysts said.
The Chinese stock market will resume trading after a nine-day break, which may have offered investors enough time to come up with ideas that could help end the recent deadlock.
In the run-up to the holiday, investors were reluctant to trade, rendering market turnover light and share prices flat.
Unless there is a major policy shift or unexpected external events, excitement appears unlikely to return to the dull market any time soon, said Gu Yongtao, a strategist at Cinda Securities Co Ltd.
"Recent macroeconomic data has pointed to improvement in the Chinese economy. But it failed to change market direction as investors find it difficult to draw confidence from the latest data," Gu said.
"We think that only major policy moves or unexpected events in external markets could help break the current market deadlock."
Investors may shift attention to whether or not the government would tighten regulations to tame a suspected housing bubble in the country's big cities.
"In particular, questions linger as to whether or not policymakers can combat exuberance in the housing market," said Jeremy Stevens, chief China economist at Standard Bank.
Chinese media speculated that the government may tighten policy for developers to raise funds.
The Shanghai Stock Exchange has already clarified the rules for realty companies seeking to sell bonds in the market.
The Chinese stock market has been under liquidity pressure due to capital outflow into the red-hot property market.
Many economists predict that China's monetary policy will likely remain neutral, if not slightly tighter, as the Chinese central bank has already started draining capital from the financial system to sharpen its focus on leverage and financial risks.
During the holiday, investors may have considered whether any further opening-up of the Chinese capital market would be able to attract more overseas capital.
China's securities regulator said on Sept 30 it has removed asset allocation restrictions on qualified foreign investors to allow them greater freedom to invest.
Previously, they are required to invest at least 50 percent of their assets into stocks, and their cash ratio should not exceed 20 percent.
The move is the country's latest effort to open up its capital market. And this was interpreted by market mavens as the regulator's intent to attract more capital inflows.
Another event that would help further open up the mainland capital market is the much-anticipated launch of the Shenzhen-Hong Kong stock trading link.
The regulators concerned will likely announce the launch date next month.