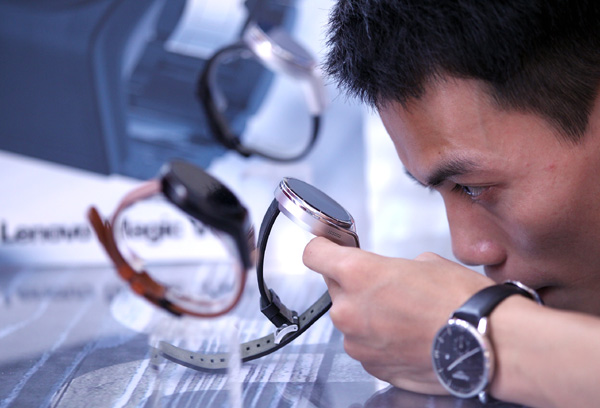 A visitor takes a close look at the smartwatch unveiled by Lenovo Group Ltd in Beijing, May 28, 2015. [Photo/China Daily]
BEIJING - Consumption contributed 73.4 percent of China's economic expansion in the first half of 2016, official data showed on Sunday.
The share was up 12.5 percentage points from the proportion seen at the end of 2015, the Ministry of Commerce (MOC) said at a press conference.
Compared with investment and exports, consumption has been a less conspicuous growth driver for China in the past few decades, but the latest data showed it is catching up fast as other drivers lose steam.
The momentum is partly attributable to government efforts to explore consumption potential in the country's underdeveloped rural areas with the help of improved logistics and the Internet.
So far, China has built 100 e-commerce demonstration bases across the country to make online shopping more accessible, according to MOC spokesman Shen Danyang.
China's economy expanded 6.7 percent in the second quarter, stable from the first quarter and still within the government's target range of 6.5-7 percent for 2016.