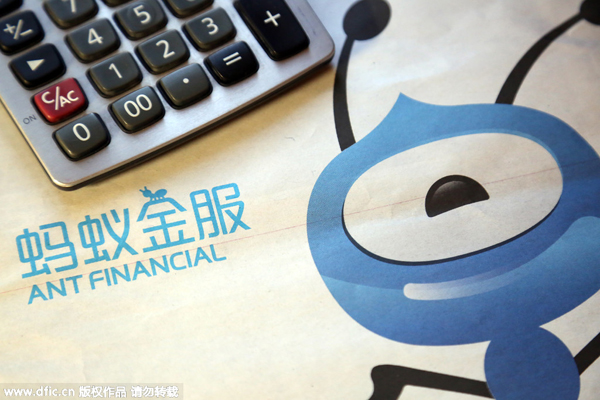 An advertisement for Ant Financial Services, an affiliate of Chinese e-commerce giant Alibaba Group, is pictured in Shanghai, October 16, 2014. [Photo/IC]
Ant Financial, Alibaba's finance arm, recently acquired US biometric authentication tech startup EyeVerify Inc, in a move aimed at better securing consumers' data and transactions, said Ant Financial in a statement.
"The acquisition of EyeVerify is a critical part of our effort to make bold, yet thoughtful moves to continually enhance users' trust, safety, and experience," said Jason Lu, vice-president of fraud risk management at Ant Financial, in the statement. "It is an important extension of our efforts to accelerate the global adoption of secure mobile payments and allows us to improve our overall risk management."
According to EyeVerify, which uses pictures of the human eyeball to unlock mobile services, it will operate as a wholly owned subsidiary of Ant Financial and continue to be based in Kansas, Missouri.
"Ant Financial is paying about $70 million for the acquisition," said a Bloomberg report, citing a person familiar with the matter.
According to the report, as its first investment in the US, Ant plans to use the technology to upgrade its own security systems and could eventually apply it to a future US-targeted product.
Earlier this year, the two companies entered into a licensing agreement in which Eyeprint ID was integrated into Ant Financial's payment authentication platform.
In 2004, Ant Financial was established as Alipay, a PayPal-like online payments processor for e-commerce sites. Since then, it has expanded into an internet finance empire that offers a range of services, from internet banking to providing credit ratings.
In 2011, the company was spun off under Jack Ma, Alibaba's executive chairman, and earlier this year it raised $4.5 billion at a reported $60 billion valuation, making it China's most valuable financial technology company.
Eric Jing, president of the company, told China Daily in early September that Ant hopes to replicate its success in China in the wider world, and has a goal of boosting user numbers to two billion within 10 years.