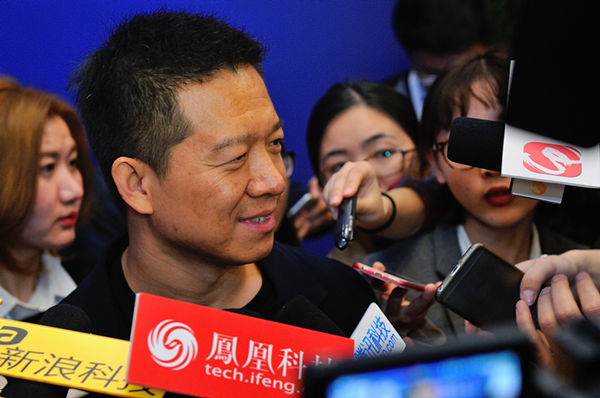 Jia Yueting, founder of LeEco, meets with media during an IT summit in Shenzhen, Guangdong province. Provided to China Daily
Company's bundling strategy may not work, analyst says
Chinese internet firm LeEco Holdings Co Ltd is ready to sell smartphones and TV sets in the United States after the rapidly rising company purchased a 20.23-hectare development site in Santa Clara, California.
Jia Yueting, founder of LeEco, said in an internal letter: "We have outcompeted several global giants to get the land and it will be used as our global headquarters."
The company has more than 1,000 employees in the US and will formally launch its products in the world's most-competitive market within the next three months.
The move is part of LeEco's efforts to expand its overseas presence and highlights its bold ambition to take on Apple Inc and Tesla Motors Inc in these international giants' home turf.
The Silicon Valley Business Journal reported in May that LeEco had bought a site for $250 million from Yahoo Inc. A LeEco spokesperson confirmed the letter, but declined to disclose whether the land was purchased from Yahoo or the price of the deal.
"We will have a news conference in the US at which more information will be disclosed," the spokesperson said.
The Beijing-based company started as an online video-streaming site but quickly evolved into a heavyweight with presence in smartphones, TVs, virtual reality and electric vehicles. LeEco managed a rapid rise in China chiefly by offering smartphones and TVs at cheap prices that lure consumers to try the bundled LeEco memberships to access paid TV shows and US movies.
"In other words, it is selling content by sacrificing hardware profits," said Fu Liang, an independent industry expert.
The huge differences between China and the US will make it difficult for LeEco to replicate its domestic success. "American consumers can easily access good content and have limited interests in made-in-China movies. It remains to be seen how the model will work in the US. Unlike their Chinese counterparts who are price-sensitive and prefer affordable gadgets, American consumers are big fans of US brands and far more quality-conscious," he added.
Shen Meng, director of Chanson & Co, a boutique investment bank in China, said LeEco's intensified push into the US is in part aimed at showing a promising prospect to domestic investors.
"Few Chinese individual investors are capable of telling how LeEco's US business is going. Associating itself with fancy names such as Silicon Valley and Apple will increase investors' confidence in the company."