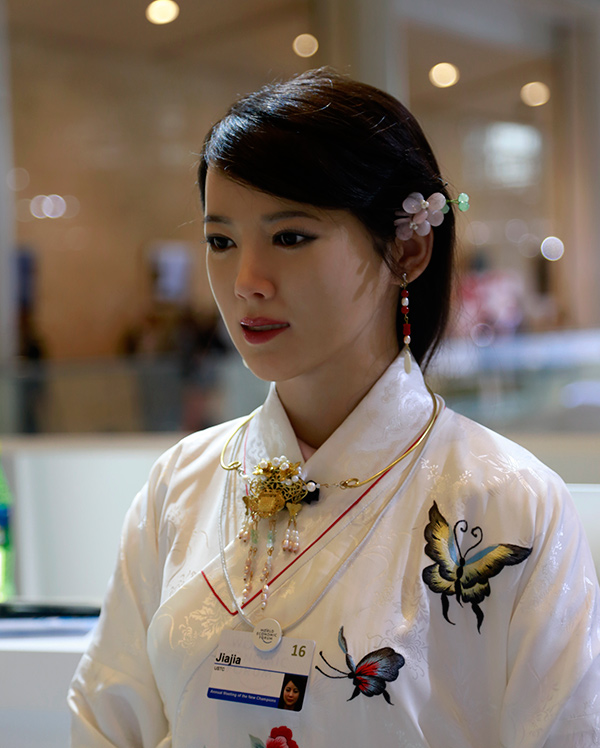 Jiajia is a robot developed by the University of Science and Technology of China in Hefei, Anhui province.[Photo/China Daily]
At the Summer Davos of the World Economic Forum in Tianjin last week, a young corporate executive appeared utterly bewitched by an attractive and young Chinese woman in a traditional white robe.
Her red lips and shiny black eyes seemed to draw him towards her. The woman responded gently to his overtures: "Sir, I don't have a boyfriend, for I immerse myself wholeheartedly in my work."
Her tone of voice was a giveaway. The executive quickly realized the speaker was not a woman but Jiajia the robot. Jiajia seemed to redefine 'virtual reality' with its stunning resemblance to a woman.
The lifelike robot is a product of a research team from the University of Science and Technology of China in Hefei, Anhui province.
Jiajia was unveiled in April. 'She' quickly earned the nickname "Robot Goddess" for her combination of physical beauty and deep learning ability.
Jiajia is still in development and not up for sale yet. But Chen Xiaoping, the director of the research team, believes Jiajia will be a good assistant for the elderly in future.
Chen said he started to work on Jiajia three years ago. He was driven by the realization that people's interest in any robot model usually does not last for more than three minutes.
Jiajia can be taught to interact with people through not just conversation but physical movement. "We modeled Jiajia after five female students at our university," Chen said.
According to Chen, Jiajia can naturally move her eyeballs and her speech can be in sync with her lip movements. More importantly, she can produce micro expressions to match the content of her speech. Stated differently, Jiajia can get as real as real can be.
"When Jiajia says, 'I'm happy', she will smile, just as humans might do," he said. "With a pleasant image and an approachable conversational style, I hope Jiajia can also help ease people's fear and concern about robots."
Name: Jiajia
Nationality: China
Age: 2.5 months (debuted on April 15, 2016)
Producer: University of Science and Technology of China (USTC)
ID: Third Generation of "Ke Jia" Interaction Robot Language: Chinese
Experience:
Won the Best Intelligent Service Robot of Robocup 2013-15 (three consecutive years)
Docent for USTC school history
Hosted the first International Robots Spring Festival Gala
Up next: versatile humanoids, androids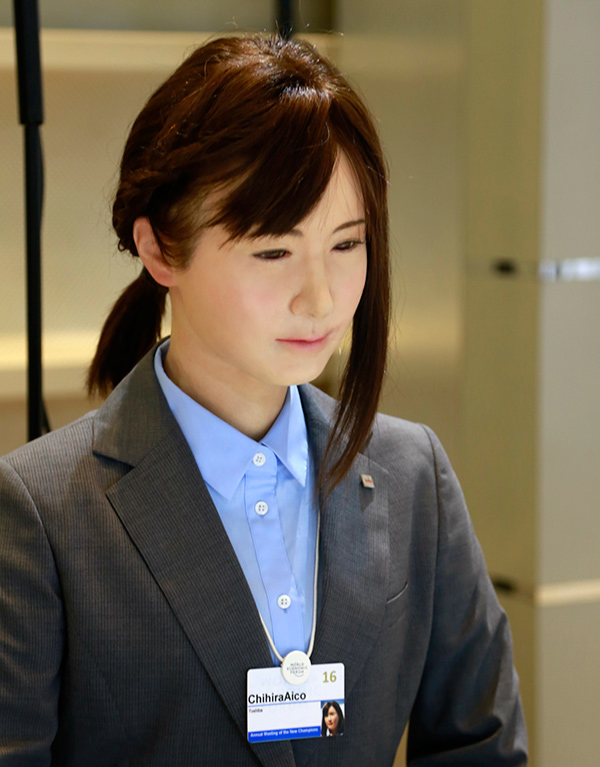 Chihira Aico is a humanoid from Japan's Toshiba Corporation.[Photo/China Daily]
Chihira Aico is a humanoid from Japan's Toshiba Corporation. The words are Japanese for "peace on earth". It was on display at the 10th Summer Davos Forum in Tianjin last week.
This eerily life-like intelligent interactive robot debuted at Japan's CEATEC Show in 2014. It was created by Toshiba Corp, Professor Hiroshi Ishiguro of Osaka University, A-Lab, and two other institutions. Aico was designed to be a 32-year-old Japanese woman and operates as humanly as possible.
According to Hitoshi Tokuda, chief specialist of Marketing Strategic Office in Research & Development Division of Toshiba Corp, Aico is powered by 43 pneumatic actuators to help "her" express facial expressions and body movements.
Although some criticized Aico as being too human-like that may cause 'uncanny valley effect', Toshiba added a few more humanoids to the Chihira family, including Chihira Kanae that was on display at the ITB travel expo in March and Chihira Junko that provided customer service at the Aqua City Mall in Odaiba, Tokyo.
Toshiba Corp claims Aico to be the most realistic humanoid among all the androids, and envisions that it and its "sisters" could be commercialized and made to undertake jobs such as news reporting, museum audio guidance, healthcare assistance to the elderly and the physically challenged and even cheerleading.
Tiffany Gao contributed to this story
Name: Chihira Aico
Nationality: Japan
Age: 2(debuted at Japan's CEATEC Show in 2014)
Producer: Toshiba Corporation
ID: First Generation in the Chihira Series
Language: Japanese, Chinese, English, Korean and Japanese Sign Language
Experience:
Attended CEATEC Show 2014
Attended Consumer Electronics Show 2015 Provided customer service at Mitsukoshi department store in Nihonbashi, Tokyo, Japan