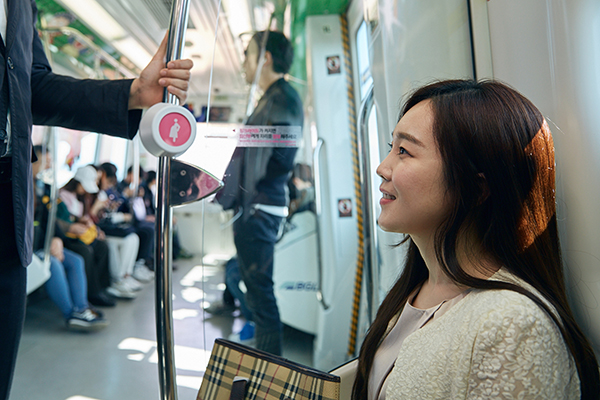 A woman on a subway in Busan, South Korea, sits near a "pink light" that is activated by a wireless sensor. [Photo/Agencies]
Before they show a baby bump, some pregnant women in South Korea can expect accusing glares when they take subway seats meant for pregnant, disabled or elderly passengers.
One South Korean city is testing a wireless technology it hopes can alleviate the problem and perhaps help address one of the biggest challenges facing the Asian country: a stubbornly low birthrate.
In April, the southeastern port city of Busan, South Korea's second-largest city, began testing a small device called a beacon. Equipped with a wireless sensor, it activates a pink light attached to another sensor installed on a metal bar next to special priority seats, usually at the end of subway cars. The idea is to alert everyone nearby that the person is pregnant.
The Pink Light Campaign is intended to make it easier for non-pregnant passengers who might be occupying a seat designated for pregnant passengers to give up the seat without having to wonder.
"It is hard to tell if a woman is pregnant, and give up a seat, when she doesn't have a baby bump," said Lee Gyeong-eon, a 23-year-old college student who frequently travels by subway.
Other South Korean cities also are trying to make travel by public transportation friendlier for pregnant women. Seoul, the capital, has installed bright pink seats designated for women who are expecting.
With one of the lowest birthrates in the world, South Korea is eager to encourage larger families. South Korean women had 1.21 children on average in 2014. The average for the wealthy nations belonging to the Organisation for Economic Cooperation and Development was 1.68.
The Busan experiment is part of the trend toward the internet of things, which uses wireless technology in products not usually associated with internet connectivity.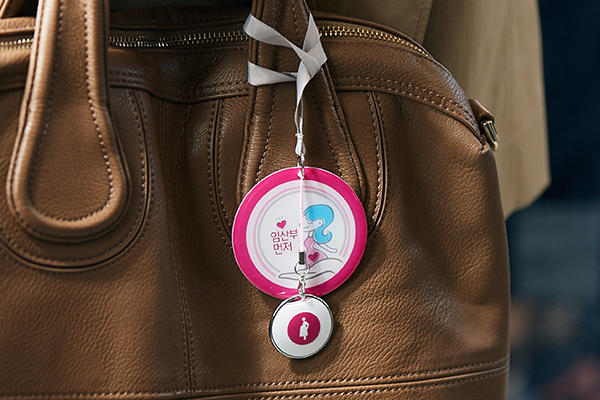 [Photo/Agencies]