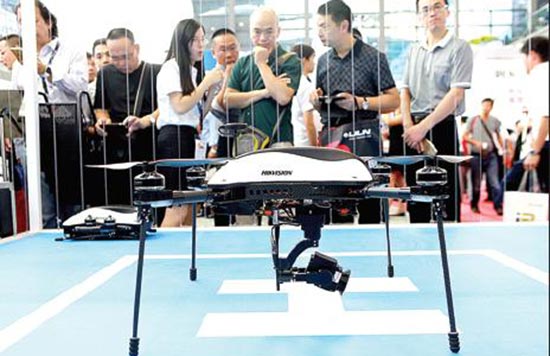 A drone developed by Hikvision on display at an expo in Shenzhen, Guangdong province.[Provided to China Daily]
If you think Hangzhou Hikvision Digital Technology Co Ltd is nothing more than the world's largest supplier of video surveillance products, you would be only partly right.
"We regard Hikvision as much more than a supplier of video surveillance products. We are a high-tech company," said Zheng Yibo, its vice-president.
That description has become necessary now as the Hangzhou-based company is upgrading itself and transforming its business to develop industrial robots and drones.
In fact, it launched a smart warehousing robot in February. Equipped with visual sensors that facilitate autonomous navigation, the machine can carry a load of 500 kilograms at a maximum speed of 1 meter per second.
Hikvision has also developed a robot commanding system that allocates tasks and plans the route for the machine. Its smart management system can help make warehousing tasks efficient and effective.
"Hikvision's robots can be widely used in warehouses where small but diversified products need to be sorted," said Mo Wenyu, an analyst at Changjiang Securities.
China has a humongous storage and warehousing industry whose revenue this year is expected to be around $25 billion, up almost 6 percent year-on-year. Mo said a warehouse of 1,000 square meters requires 15 to 20 such robots. So, the market for such robots could be big.
The company is also stepping up development of drones that can be used in security-related operations, said Zheng.
In October 2015, Hikvision developed an industrial drone equipped with 30X optical zoom digital camera. The company has reserved intellectual property rights on the product. The unmanned aerial vehicle can attain a maximum speed of 80 km per hour on a flight that could last 33 minutes.
The drone can connect to Hikvision's different management platforms in real time, which makes it useful in public security, energy, transportation, culture and education sectors.
Wang Shaobo, an analyst at Citic Securities Co, said China's drone market appears promising for Hikvision because it has mastered the flight control system, a key technology in drones.
"Although the new businesses (of drones and robots) account for a small proportion of our whole revenue, we have confidence they will become significant in two to three years," said Zheng.
Hikvision's 2015 revenue was 25.3 billion yuan ($3.9 billion), up 47 percent year-on-year, while its profit was 5.9 billion yuan, up 26 percent year-on-year.
Zheng said the company allocates about 8 percent of its annual revenue to research and development activities.
Hikvision used to be a business-to-business or B2B company. Its clients were institutions in the areas of public security, finance, education and transportation.
"Since 2013, Hikvision has produced a diverse range of video surveillance products for its customers," said Yu Liang, head of strategic planning department at Hikvision.
Its products include apps, a video service platform, video cameras and cloud storage.
"We will set up a cloud platform and open it to the public (as well)," said Yu, adding it will collect and analyze video data for privacy protection.
Zheng said the company is keen to upgrade its offerings for the overseas markets. "Previously, we used to sell products. Now, we will also sell solutions and services."