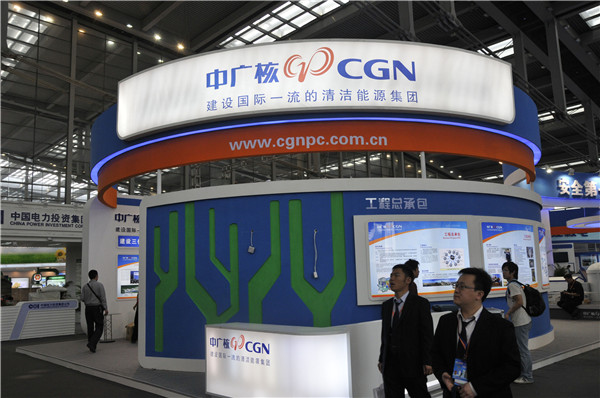 The stand of China General Nuclear Power Corp at an industry expo in Shenzhen, Guangdong province.[Provided to China Daily]

The move is aimed at securing fuel supplies for nuclear plants
The uranium subsidiary of China General Nuclear Power Corp, the country's largest nuclear operator, is looking to buy more assets in the uranium-rich countries such as Kazakhstan, Canada and Australia, a top company official said.
"We will consider acquiring more uranium assets if the price is reasonable," Zhou Rongsheng, chief engineer at CGN Uranium Resources Co Ltd, told China Daily on the sidelines of an industry conference in Beijing.
"We are now considering expanding cooperation with Kazakhstan in both uranium production and fuel assemblies."
He said China's uranium production is expected to top 30,000 tons by 2030, which will enable the country to secure fuel supplies for nuclear power plants being planned at home and abroad.
"By 2020, uranium production in China will exceed one-third of the world's total production," he added.
CGN has already secured uranium projects in nearly all major uranium-producing nations, including Namibia, Kazakhstan and Australia. Last year, CGN paid C$82.2 million ($63.78 million) for a nearly 20 percent stake in Fission Uranium Corp, making it the first direct Chinese investment in a Canadian uranium developer.
Since 2006, CGN has been involved in the uranium market in Kazakhstan, which has 15 percent of the world's uranium resources and an expanding mining sector.
The State-owned company also plans to set up a joint venture in Kazakhstan to produce nuclear fuel assemblies, which will ensure sufficient fuel supplies as Chinese nuclear companies seek to go global, CGN said in a statement.
A report by the World Nuclear Association said less than a quarter of nuclear fuel supplies comes from domestic uranium mining and exploration and plans for new mines have increased significantly since 2000.
It said that State-owned enterprises are acquiring uranium resources internationally as the world's second-largest economy is trying to become self-sufficient in most aspects of the fuel cycle.
"By international standards, China's ores are low-grade and production has been inefficient. The nuclear power companies are not depending on the national goal of sourcing one-third of uranium domestically, and are ramping up international arrangements to obtain fuel," it said.
An expert, who prefers to be anonymous, said that uranium is of strategic importance for China. "The country tries to produce one-third of its uranium domestically, obtain one-third through foreign uranium mines, and to purchase one-third on the open market," the expert said.
China will need more nuclear plants
China will need to build more nuclear power plants in both inland and coastal areas amid huge pressure to combat climate change, the head of the World Nuclear Association said.
Even though China is leading the world in the construction of nuclear reactors-24 under construction-more are needed for future use, according to Agneta Rising, WNA's president.
"China is a very big country that needs to have electricity generation in more places instead of in some coastal areas," she said.
"There's wide expectation that China will also do nuclear projects inland provided all safety issues and concerns have been properly addressed, because we don't see why that cannot go forward."
Due to safety issues, China put a pause on nuclear construction after Japan's Fukushima nuclear crisis, but it lifted the ban in 2014, giving permits only for nuclear power plants located in coastal areas.
The country is adopting a "wait and see" approach for inland nuclear power plants. Three inland plants-Taohuajiang, Pengze and Dafan-have been on suspension for about six years.
Rising said the nuclear-energy sector has not grown as much as other energy sources such as wind and solar despite growing electricity demand.
"Nuclear is very competitive compared to other renewables, because it doesn't need backup systems as other clean sources do to generate power constantly," she said. "Wind doesn't blow all the time and there isn't sunshine all the time either while nuclear is a reliable and low-carbon source for energy already existing today."