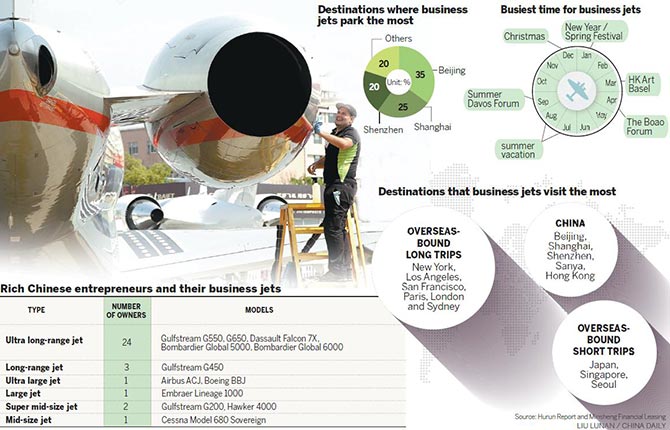 A recent slowdown in growth in China's business jet industry will not affect the long-term prospects of the sector, a report said.
According to the China Business Aviation Special Report 2016 jointly released by Hurun Report and Minsheng Financial Leasing, at least 1,420 rich Chinese people have the potential to buy 1,750 business jets, which are worth more than $52 billion.
More than 9,000 superrich people in China have the potential to charter a plane, with the estimated flying time reaching 205,000 hours per year.
In the next five years, a total of 1,850 people are expected to buy 2,320 business jets, which will be valued at $71 billion in total.
Qiao Kai, vice-president of Minsheng Financial Leasing, said that the Chinese business jet industry has been developing steadily in recent years although the growth rate has been slower if compared with the peak period.
There is still much room of growth if compared with mature Western markets. Business started to pick up especially in the first quarter of 2016.
Besides efficiency, independency and privacy, "face" has become a key reason for buying business jets. According to Rupert Hoogewerf, founder and chief researcher of Hurun Report, business jets buyers always find it easier to seek partners when people recognize their wealth with the possession of a plane.
But there are also various reasons for not to buy a business jet. The complicated procedure of applying for routes and parking is the biggest obstacle when owning a plane. Other reasons such as high maintenance costs and being too high-profile have also had an impact on purchases.