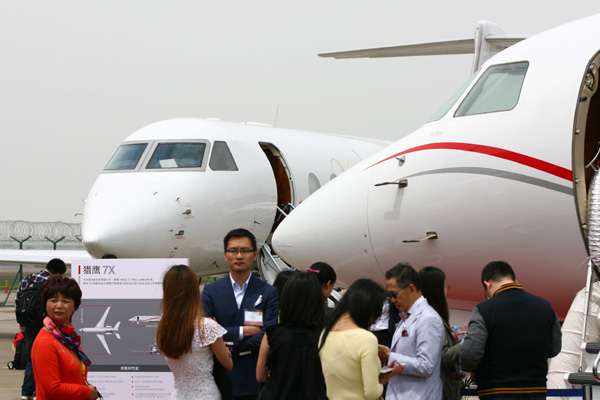 Dassault Falcon 7X business jets are on display at the 2015 Asian Business Aviation Conference and Exhibition in Shanghai. Chinese billionaires are the major buyers of luxury business jet aircraft in the world market. [Photo/China Daily]
Market decline attributed to anti-corruption campaign and slowing pace of GDP growth
A salesman for a domestic business jet operator surnamed Li was standing on the windy and rainy tarmac at Shanghai Hongqiao International Airport on the morning of April 14, the launch day of the 2015 Asian Business Aviation Conference and Exhibition.
Li was waiting for his clients and planned to show them the Boeing Business Jet and ACJ319-the most luxurious jets on show, although he was pretty sure they would not buy any this time.
"I have to grasp every opportunity," Li said, and he hoped that they would at least be interested in some small jets.
Compared with his colleagues, Li is much luckier, as his employer is powerful and has clients in this period of slowing economic growth.
"We just come to the exhibition to meet and exchange opinions with our friends in the business," said a salesman from another domestic business jet distributor.
"But everything was totally different back in 2012," he said, recalling the best time so far in China's business jet market.
China's business aircraft market boomed after the 2008 Beijing Olympics, with the number of business aircraft growing from 91 in 2008 to 203 in 2011, according to a report from Asian Sky Group, a Hong Kong-based business aviation consulting firm.
The annual growth of China's business aircraft fleet reached 34 percent in 2013, while global growth was just 5 percent.
However, the market dipped last year, with the fleet's annual growth dropping to 15 percent in 2014.
The net number of aircraft added in China in 2014 was 59 compared to 64 in 2013, while in 2012, when the ABACE was held in Shanghai for the first time, 102 business aircraft, including new and pre-owned aircraft, were added in China.
"The China market is very much in decline," Asian Sky Group said in its latest report released at the exhibition.
Some aircraft manufacturers and distributors had orders canceled by Chinese clients last year.