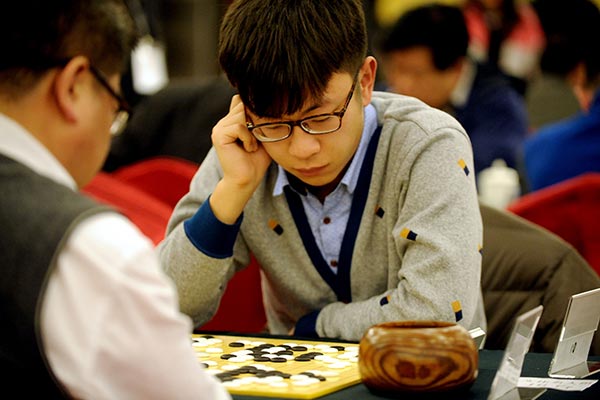 Weiqi players at a contest held in Shenyang, capital of Liaoning province.[Provided to China Daily]
The recent win of Google Inc's artificial intelligence program AlphaGo over South Korea's Lee Sel-do, one of the world's best Go players, has reignited my enthusiasm over the ancient Chinese board game. It also makes me recall how I first fell in love with it.
It was in 1985, when Chinese Go grandmaster Nie Weiping defeated Japanese elite players one by one for the first time in a tournament. It was shortly after China started to open up to the outside world and was craving for anything that would help lift national morale. China Central Television broadcast his games live, and Nie became a household name overnight. You were out if you knew nothing about Go, or weiqi in Chinese, at that time.
So I started to learn to play, by reading books and watching lessons on TV, which was not very hard, and tried to seize every chance to hone my newly acquired skill. Yet finding someone at a comparable level and who was willing to play with me, in a certain place at a certain time, proved far more difficult. The process, which cost me a lot of time and gave me many headaches, finally sapped me of any impulse to play.
The situation has changed with the onset of the internet age since the 1990s, which saw the emergence of hundreds of online Go-playing platforms that link up players worldwide. Amateur players suddenly found themselves pampered with all convenience available in cyberspace. Finding someone to play with takes just seconds. I registered with one platform and spent some of my finest hours playing with other Go fans for free.
There were nuisances, such as when you encountered players who would not accept defeat, yet could do nothing about it due to the technical limitations of the system. But the biggest problem was that such platforms had no profit-making mechanism to sustain their growth, forcing many to close down not long after. One day I found the site I had registered with was inaccessible, and was heartbroken to see my hard achieved skill-level rating gone together with my game records. I had no interest in playing online any more.
But the enthusiasm for Go never dies out. The fever sparked by AlphaGo's spectacular performance against the human brain was contagious and I soon found myself lured back to a Go-playing website last month.
It is not a big one, with peak time online active players estimated at several thousands. Yet it is run in a way that seems to promise a bright future. For example, it charges a meager amount fee, 20 yuan ($3.07) a month, for premium services such as situation assessment, which makes you aware of how much you are getting an upper hand over, or lagging behind your opponent, thus boosting your chance of winning. I happily paid 50 yuan through WeChat for a three-month membership at a discount. So far the experience has been pleasant enough for me to consider renewing my membership. Technical advances in the system have made the games smooth. Now it has become a routine for me to play a game each day after work.
The spring of Go has come, especially in the monetary sense. The number of China's Go fans is estimated at 30 million. Experts believe the Go market size could be up to 30 billion yuan if both online and offline resources are tapped, such as Go schools and Go apps on smartphones.
Some early birds have already jumped on the bandwagon. Online Go education platform Aiqidao completed its first round of fundraising early this year, which values it at 40 million yuan. Song Junbo, one of the angel investors, told the media there are millions of children in smaller cities who want to learn Go but have no resources like those in large cities. Aiqidao can serve as a bridge between Go masters and learners.
"The market is huge enough," he said.