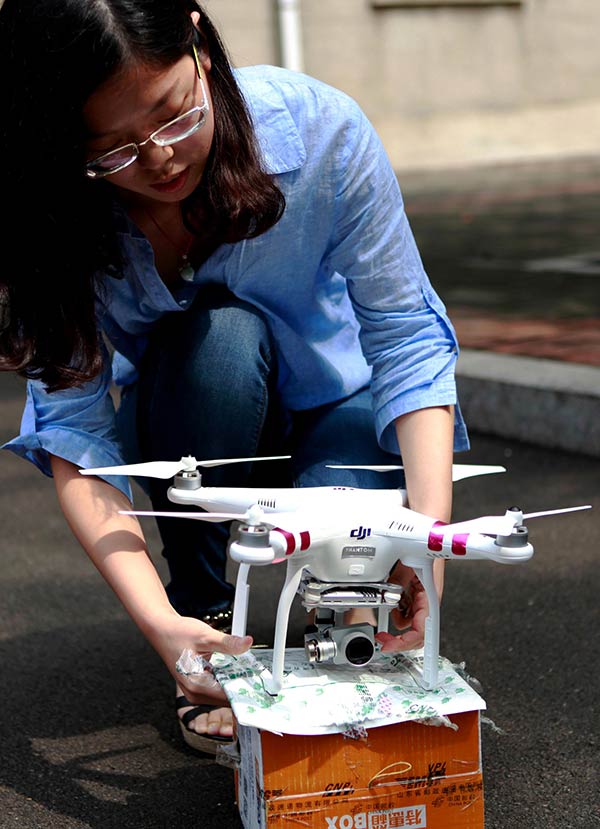 Many logistics companies seek to use drones for the delivery of goods, but many policy hurdles remain.[CUI PENGSEN / FOR CHINA DAILY]
Shaanxi will allow use of unmanned aerial vehicles to deliver goods over next 5 years
Shaanxi province, which was the starting point of the ancient Silk Road, is aiming to reinvent itself into one of northwestern China's key logistics centers.
The province is firming up policies to support the logistics industry. Over the next five years, it will allow the use of unmanned aerial vehicles, or drones, in the distribution of goods.
The provincial government's document said in late January Shaanxi's new policy is designed to persuade logistics companies to start operations in the area.
In major cities such as Xi'an and Ankang, and the northern part of Shaanxi, drones will be used to deliver packages, according to the document.
This is expected to improve the efficiency of the entire logistics industrial chain, especially within the province's logistics parks, said Chen Hao, head of the drone operations center with the China Southern Power Grid Co, the country's second-largest power grid company.
The company has been using drones in its daily operations for two years now. Chen said it is important to ensure the safety and stability of drones in the logistics sector. "The failure rate of widely used drones is about 20 percent, which means two out of 10 deliveries will fail due to the current state of technology, which is not good news for logistics companies," he said.
According to Chen, most drones that CSG uses can take a load of under 7 kilograms, which falls short of the requirements for logistics firms like couriers. Only licensed professionals can operate drones with a higher capacity. CSG has up to 70 licensed operators as some of its drones can carry loads of up to 125 kg.
"It requires lots of work before logistics firms can use drones for large-scale deliveries. But development of high-tech drones could make anything possible in the future," Chen said. "However, at the moment, it is more like just for show, in terms of the logistics sector."
Some analysts and drone enthusiasts share Chen's views. Xing Guangli, a photographer in Beijing who uses drones to take pictures and shoot videos, said logistics companies will face regulatory hurdles if they seek to use drones for package deliveries.
"For instance, Beijing doesn't allow drones to fly within the Sixth Ring Road, which pretty much covers all key areas in the capital," he said. "That's the busiest area for logistics firms."
JD.com Inc, an online retailer, has said it is working on shortening delivery times in rural areas by using drones.
In addition to safety, security and cost issues, JD.com will face the problem of finding drones that can carry heavy parcels in a stable way, industry observers said.
It may have to develop its own drones based on existing models.