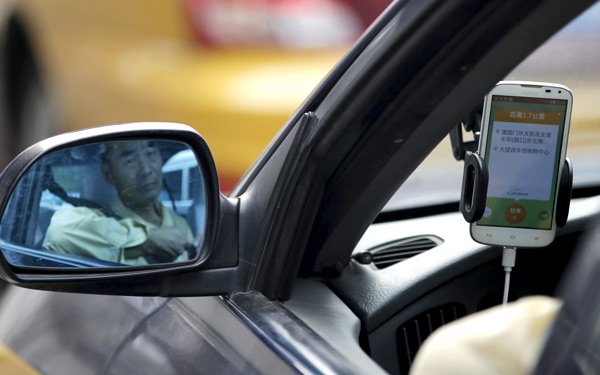 A taxi driver is reflected in a side mirror as he uses a Didi car-hailing application in Beijing.[Photo/Agencies]
Lender to provide loans, payment plans to qualified drivers
China Merchants Bank Co Ltd has teamed up with ride-hailing major Didi Kuaidi to provide automobile financing and expand its reach in China's booming mobile payment industry.
The two have inked a comprehensive partnership, which includes a strategic investment by the former in the latter. Under the partnership, CMB will become the first bricks-and-mortar bank that can offer in-app credit card payments to Didi users. At present, users of Didi can only choose third-party payment solutions like WeChat Payment and Alipay to pay cab fares.
Zhao Ju, vice-president of CMB, said the cooperation with Didi is an important step in its mobile Internet finance strategy. "CMB's mobile payment is going to enter a new chapter by leveraging Didi Kuaidi's vast user base," he said.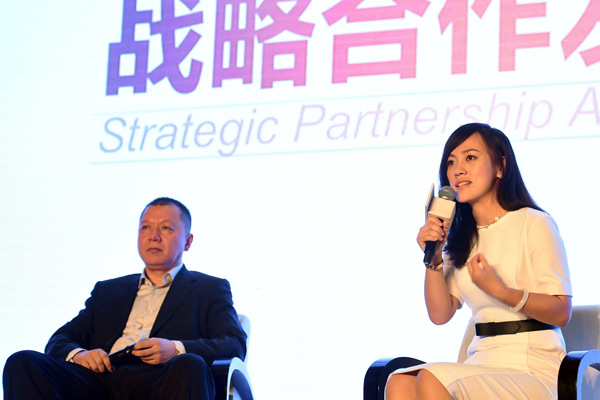 Jean Liu, president of Didi, speaks at the strategic partnersip ceremony co-organized by CMB and Didi, Jan 26, 2015.[Zhang Wei/Asianewsphoto]
According to a report by China Internet Network Information Center earlier this month, Didi holds 87.2 percent of China's private car hailing market.
The company said it has received 1.43 billion car-hailing requests on its platforms in 2015, which means 1.43 billion payments were made via smartphones.
CMB is expected to use Didi to reach the core users of China's mobile payment market.
Jean Liu, president of Didi, said many of the expats prefer payment by credit card rather than Alipay or WeChat. "The new partnership will help improve service quality and customer loyalty," she said.
The investment makes CMB part of Didi's existing investors, including Tencent Holdings Ltd, Alibaba Group Holding Ltd and China Investment Corporation. Both of the companies declined to reveal the actual amount of the investment.
Liu, who showed up on Tuesday for the first time in public after her treatment for breast cancer, said the cooperation with CMB is for the long run and "the capital investment is only part of it".
Under the partnership, CMB and Didi will cooperate on a wide range of initiatives on financial services and online-to-offline cooperation.
Apart from the in-app credit card payments, the two companies are going to launch joint credit cards in late February and automobile financing services for Didi's car owners. CMB's branches across China are expected to help Didi recruit more drivers.
"There is a lot of room for imagination in our partnership," Li said, adding in future people may use their CMB credit card reward points to pay for the ride on Didi.
Li Chao, an analyst with iResearch Consulting Group, said the partnership may not significantly boost CMB's mobile payment business. "Didi has educated the market for three years and its customers have formed the habit of paying by WeChat or Alipay. So I think CMB can only turn a very smart proportion of Didi users into its payment customer," he said.
"But the move shows that China's traditional banking industry is finally thinking out of the box and looking for outside partners in Internet finance competition," he said.
Statistics from Big-Data Research showed that more than 90 percent of China's 9.3 trillion yuan ($1.41 trillion) worth of third party mobile payment market is donated by Alibaba and Tencent.