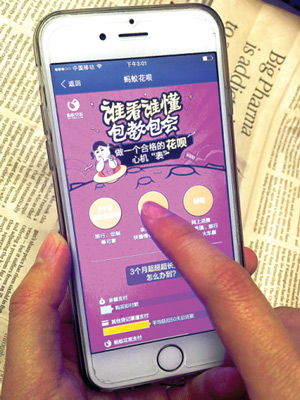 A screenshot of Ant Check Later app, developed by Alibaba Group Holding Ltd. [Photo/China Daily]
For public relations manager Lena Lyu, 27, only three of the 40 apps that occupy her 5-inch mobile screen have real value. All the three apps, including JD Finance, are money-related.
Welcome to the world of Internet finance in China. It is a user-friendly, popular personal finance channel made popular by Internet companies such as JD.com Inc and Tencent Holdings Ltd.
"I am an avid user of JD.com's consumer credit service. With a 6,500-yuan ($988) monthly salary in Beijing, I live from paycheck to paycheck. But Internet finance helps me to tide over frequent money shortfalls," said Lyu, who received her master's degree in international journalism in July 2015.
"I just borrowed 50 yuan from JD to buy artificial flowers to decorate my bedroom. There is no interest as long as I pay the bill within 30 days."
There are benefits besides zero interest for users of Internet finance, who are mostly young and smartphone-dependent. Their online behavior, especially shopping habits, becomes data for Internet finance companies and a potential asset for themselves.
A good record online converts to easier access to online loans. "Compared with credit card companies, JD Finance is a breeze because it requires nothing more than my name, ID card and phone number. My shopping record and mobile-based payment data on JD are enough to assess my creditworthiness," Lyu said.
From April 2015 onwards, when she began using JD Finance, Lyu has borrowed, and repaid (well, almost), 27,000 yuan. "In addition to shopping on JD.com, much of my borrowing went towards house rent, about 2,200 yuan a month."
It is imaginative services like these that are making Internet finance popular. JD tied up with a property rental agency to make life easier for job-seeking or newly hired fresh graduates, most of whom are its patrons.
JD pays their home rent for the entire year upfront to realty agencies. Consumers in turn repay JD on a monthly basis, which obviates the traditional quarterly payments to agents.
"No interest is involved and I don't have to pay any deposit, which often equals one month's rent," Lyu said.
Yet, JD solves her problem only partly. Lyu receives her salary at the beginning of every month. She can barely survive the month-end when she has to repay her debts.
This is when she turns to another innovative Internet-based finance service called Weilidai of Tencent. "This is the best choice to address temporary financial crunches. My abundant data on Tencent's WeChat instant messaging app has boosted my creditworthiness," Lyu said.
Currently, she can borrow as much as 27,000 yuan per month from Weilidai, much higher than her bank's credit limit of 7,000 yuan per month, at an interest rate comparable to her bank's.
In the past three months, Lyu borrowed 9,000 yuan from Weilidai.
That does not end her personal finance trapeze act. To meet her shopping needs, Lyu relies on Alibaba Group Holding Ltd's e-commerce platforms Taobao and Tmall.
She is also among the early adopters of the e-commerce giant's Ant Check Later, an online consumer credit service available for the company's patrons. "I use JD Finance when I buy consumer electronics and books on JD.com. I reserve Ant Check Later for clothing and bags. Weilidai is meant for financial emergencies," Lyu said. "All of them have their own roles and they are an indispensable part of my life."
To be sure, people of Lyu's ilk make sure they don't get into a debt trap. So, they borrow only to the extent they can repay as soon as they receive their salary. In short, for them, internet finance is a terrific tool to maintain cash flows, nothing more, nothing less.