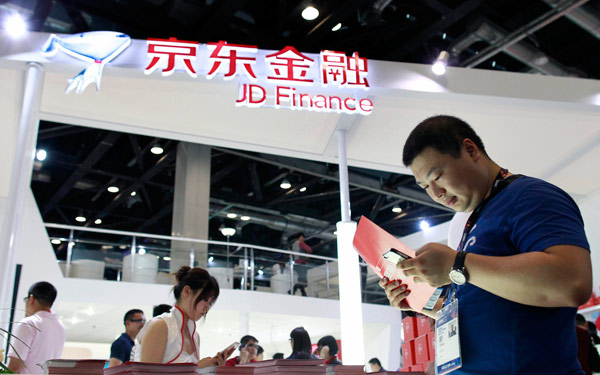 A visitor at the stand of JD Finance at a mobile Internet conference held in Beijing in April 2015. [Photo/China Daily]
Big data creates profitable consumer-finance businesses aimed at perceived high-risk borrowers like collegians and young jobseekers
In an economy where growth is slowing-GDP growth in 2015 at 6.9 percent was the lowest in 25 years-and focus shifting to domestic consumption from exports, consumer lending has suddenly acquired significance in China.
The consumer finance market is projected to reach 37.4 trillion yuan ($5.75 trillion) by 2019. A recent report by iResearch Consulting Group said the Internet-enabled consumer finance segment alone is expected to reach 3.4 trillion yuan in 2019 from 6 billion yuan in 2013.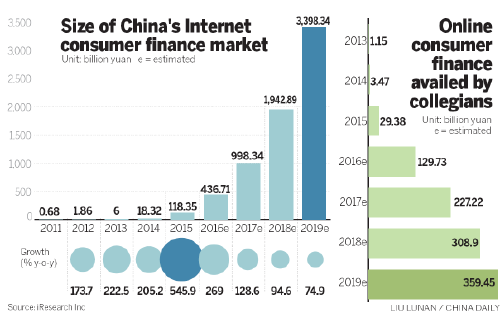 Industry insiders are, however, not unduly excited by the jaw-dropping growth estimates for Web-based consumer finance. They believe it is a market with no ceiling, and project a market size that is much bigger than current estimates.
Xu Ling, general manager of JD Finance, JD.com's consumer finance division, said, "Our research showed that less than 15 percent of the loans offered by traditional banks are for consumers. There is a lot of unmet demand waiting for us."
Some wonder, relatively new firms such as qufenqi.com are betting on lending to even jobless, card-less youngsters.
With a base of 8 million registered users, qufenqi.com lent 11.5 billion yuan in 2015 at interest rates lower than that of credit cards issues. It turned profitable in December in spite of heavy investment to expand its business to 2,500 colleges in China.
Luo Min, 33, who founded qufenqi.com in March 2014, harnessed both the Internet and big data technology to mine a fortune from 1,000-10,000 yuan ($608-$6,080) loans to perceived high-risk consumers like college students.
"Many college students don't have credit cards but they do need cash to buy, say, a new smartphone or for treating friends to a decent dinner," Luo said.
Qufenqi offers loans to meet such needs. On an average, collegians borrow up to 1,000 yuan and make monthly repayments of about 100 yuan.
Online consumer finance mainly works in two ways. One, consumers can buy products or services on e-commerce platforms first and pay in installments later.
Two, they can avail loans upfront that are credited to their online payment accounts with AliPay and such, and repay over a period of time.
According to Luo, a monthly repayment of 100 yuan is considered affordable now. Although its business might appear risky, qufenqi.com does due diligence of its debtors.
"We screen consumers' online shopping records to assess their consumption power. We also verify the contact information of their parents. We have 10,000 part-time employees who visit student dormitories at colleges for due diligence," Luo said.
Like qufenqi.com, China's Internet giants such as Baidu Inc, Tencent Holdings Ltd and Alibaba Group Holding Ltd, as well as smaller players, have jumped on the online consumer finance bandwagon.
Borrowers love what they offer: convenience, lower rates and ease of obtaining loans.
Online lenders steer clear of lengthy application processing and stiff qualifications for borrowers that typify banks and traditional private lenders.
For instance, qufenqi.com waives interest in the first month. So, borrowers repaying within a month can avail interest-free loans. A 1,000-yuan loan for three months entails monthly payments of 347.88 yuan each. That is, repayments total 1,043.64 yuan, suggesting an interest amount of 43.64 yuan per quarter, marginally lower than the 50 yuan that credit card firms charge on comparable loans.
For its part, JD.com's consumer finance division started Baitiao in 2014, a virtual credit card service that allows some of its online shoppers to buy products first and repay in installments.
The rise of online firms suggests the consumer finance market in China is too big for credit card issuers alone to serve.