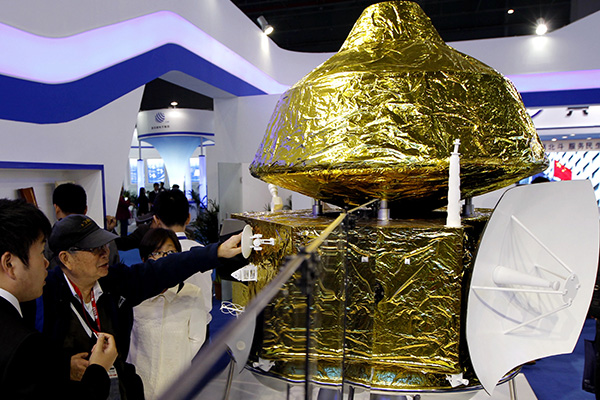 Visitors take a look at a gold-colored model of China's Mars probe in Shanghai on Nov 3, 2015. [Photo/China Daily]
A one-third size model of China's Mars probe made its debut in Shanghai on Tuesday at the China International Industry Fair in a display of the country's latest technologies.
The gold-colored model of the planned smart probe had two main parts-a hexahedron for orbit, and a cone-shaped portion for landing-illustrating how the probe will be able to perform all necessary functions and rove the planet autonomously.
China Aerospace Science and Technology Corp, the developer of the probe, is "still working on completing the real probe", and the project is going smoothly", according to its printed information.
Chinese astronomers plan to launch the probe to the red planet in 2020. It will take 10 months to get there.
Experts said that ensuring communication between the Mars probe and controllers on Earth has always been challenging for scientists and developers alike. The distance between the two planets results in reduced signal strength, which means reduced quality and accuracy.
Niu Shengda, a satellite expert at the Shanghai Academy of Spaceflight Technology, said it takes many technologies to enable the probe to land safely on Mars, given the long travel time in space and communication distance.
"The signals can be really weak, delayed or disturbed during the process. The probe must be smart enough to control itself independently on many occasions, such as when braking to allow Mars' gravity to capture it in orbit, or when spreading its wings when landing," Niu said.
During its outbound journey, the probe will communicate at up to 400 million kilometers from the Earth. At that distance, 40 minutes is required for each side of a conversation. Communication, observation and control of the probe must be ensured at the farthest distance, experts said.
China will need a carrier rocket that travels accurately at a high enough speed to safely launch the probe.
In 2011, Russia launched a rocket carrying a Chinese-made Mars probe, but the mission failed because of an orbital transfer accident.
Undaunted, China's space exploration experts expressed confidence about China's ability to explore Mars.
The Long March 5 rocket, which could carry probes to near-Earth asteroids, and to Venus and Jupiter, is expected to be ready in 2016. It is an innovation that will greatly improve China's ability to explore space, Xinhua News Agency said.