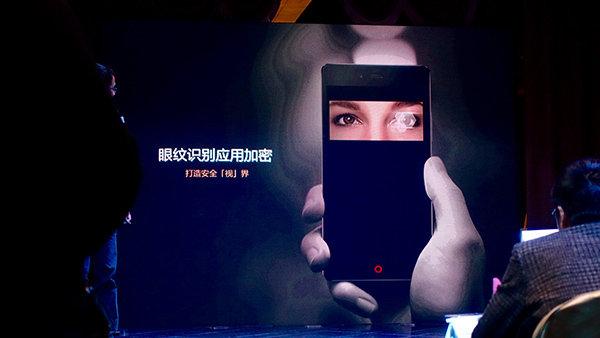 Eye-based biometric authentication technology is introduced on October 29, 2015 by Nubia. [Liu Zheng/chinadaily.com.cn]
Nubia, the handset brand that has been used by Chinese First Lady Peng Liyuan, unveiled a series of upgraded smartphones on Wednesday to mark three-year anniversary of the company's establishment.
One of the devices, Nubia Z9 Mini Elite, has been upgraded with new biometric authentication -- eye pattern recognition, the same technology embedded on ZTE's latest flagship Axon.
"Our users can use eye-scan to unlock their phone or encrypt applications," said Ni Fei, senior vice-president of Nubia Technology. "The technology brings maximum protection of user's privacy as well as creates a new interactive experience."
ZTE, the parent firm of Nubia before the latter announced financial autonomy in June, has jointly worked with US biometric security technology startup EyeVerify Inc to launch the "world's first smartphone" with eye-based biometric solution, called the Grand S3, at the Mobile World Congress 2015 in Barcelona.
Nubia Z9 Max Elite and rose gold colored Nubia "MyPrague" were also introduced at the launch event.
To compete with other domestic players in the cut-throat smarphone market, Nubia also announced it will sell online 30,000 Nubia Z9 units with a 1,000 yuan discount each before the upcoming "Nov 11" shopping festival -- China's biggest annual online sales event.
"If the demand exceeds the 30,000 units, we'll add more," said Ni.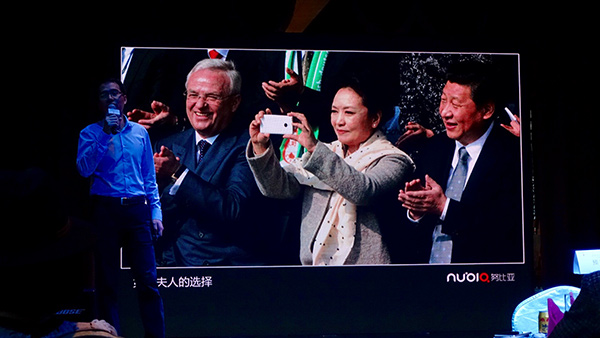 Ni Fei, senior vice-president of Nubia Technology, delivers a keynote speech on October 29, 2015 at a press event. [Liu Zheng/chinadaily.com.cn]
According to Xinhua News Agency, since the start of its birth in 2012, Nubia was conceived as an international brand. Its first product was designed by Italian Stefano Giovannoni and product launch events were held in both Russia and Sweden.
"Chinese smartphone makers face great challenges in overseas market as intellectual property rights are imposed," said Ni.
According to Ni, the intellectual property rights and patents are shared by both ZTE and Nubia, and the company's overseas marketing strategy will follow three steps.
European countries, such as Germany and France, will be the company's first target market since the previous parent company -- ZTE has achieved mature business to consumers (B2C) promotion and distribution channels in these countries. Overseas markets such as South East Asia, North America and Latin America will follow Europe.
ZTE Nubia Z9 handsets were launched in India in May, and the Nubia "MyPrague" series was unveiled in Prague, the Czech Republic, in July.
Currently, Nubia phones are available in the United States, Russia, India, the Czech Republic and Spain through cooperation with Amazon and domestic e-commerce gaint JD.com.