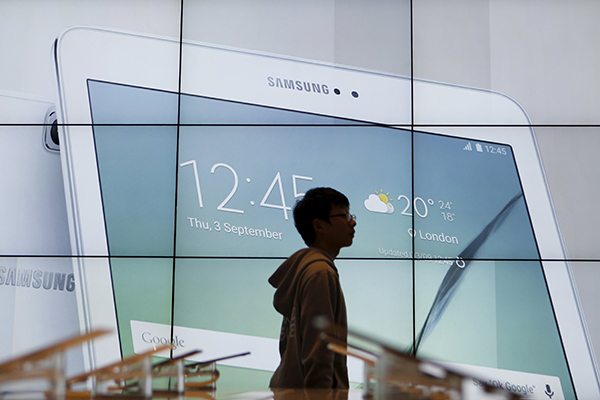 A student walks past an electronic display promoting Samsung Electronics products at the company's headquarters in Seoul, South Korea, October 27, 2015. [Photo/Agencies]
SEOUL - Samsung Electronics, the world's largest maker of smartphones, memory chips and TVs, posted a double-digit growth in the third-quarter operating profit thanks to a record high quarterly profit in the chip-making business, the company said Thursday.
Consolidated operating profit reached 7.39 trillion won ($6.48 billion) during the July-September period, up 82.08 percent from the same period of last year, the company said in a statement.
It was up 7.18 percent from the previous three-month period.
This topped market expectations of about 6.5 trillion won, and slightly exceeded the company's preliminary earnings guidance of 7.3 trillion won.
After bottoming at 4.06 trillion in the third quarter of 2014, the profit kept growing to 5.98 trillion won in the first quarter and 6.9 trillion won in the second quarter this year.
Revenue amounted to 51.68 trillion won in the third quarter, up 8.93 percent from a year earlier and 6.48 percent from the previous quarter.
Net income advanced 29.28 percent from a year earlier to 5.46 trillion won in the third quarter.
The semiconductor business led the upbeat third-quarter earnings. The chip-making unit's operating profit came to 3.66 trillion won, surpassing the previous record high of 3.42 trillion won tallied in the third quarter of 2010.
Revenue in the semiconductor division reached a new high of 12.82 trillion won in the third quarter, up from the prior quarter's 11.29 trillion won.