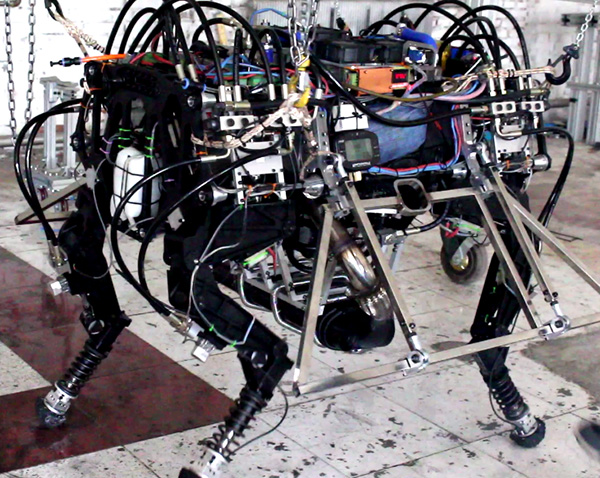 A four-legged robot is displayed at the First Military and Civilian Industries Integration Expo in Beijing in July. [Photo provided to China Daily]
China has developed a four-legged robot that can relieve soldiers from carrying heavy equipment and large backpacks when they perform duties on rough terrain, said its designer.
"The Robot Dog has completed all tests and can be put into mass production as soon as we receive orders. Having supreme mobility, it can carry 150 kg of equipment and backpacks for five soldiers, so is very suitable for use in mountainous regions and plateaus in Tibet or Xinjiang," Niu Xinli, deputy general manager and senior engineer at Heilongjiang Sino Robot Technology, developer of the bionic machine, told China Daily in an exclusive interview.
The average load of a Chinese infantry soldier is about 30 kg, which often consumes much of a soldier's strength, he said. the company is a subsidiary of China South Industries Group Corp, one of the major contractors of the People's Liberation Army.
"The robot can relieve soldiers from heavy burdens and enable them to focus on patrol or combat operations," Niu said. "It is able to move nimbly on rocky or steep terrain with a speed of 9 km/h, faster than a human in such circumstances, and is able to work as long as two hours without refueling."
Driven by a gasoline engine, the mechanical dog is also capable of resisting impact from all directions to maintain balance and can autonomously bypass obstacles, he added.
Another advantage of the legged robot is that it can follow whoever carries a signal emitter, allowing soldiers to focus on their tasks rather than needing to lead it.
Alternatively, the robot can also be remotely controlled by a soldier in some risky situations like transporting supplies to troops engaged with enemies, Niu said.
In addition to Heilongjiang Sino, there are three or four institutes in China that are also developing legged robots, but all of their robots are still undergoing tests, which means Niu's company is the only production-ready supplier if the military wants such equipment now, he said.
The engineer said the major user of the device will be the PLA. He said his company is working to develop larger quadruped robots.
Earlier reports show at least two Chinese organizations-China North Industries Group Corp and the Chinese Academy of Sciences-are developing legged robots as technology demonstrators. The reports did not reveal whether their products have been put on the market.
Internationally, the United States is the only nation that has begun to deploy legged robots in the military, Niu said.
The US Marine Corps used the Legged Squad Support System, a robotic pack mule developed by Boston Dynamics and funded by the Defense Advanced Research Projects Agency of the US Department of Defense, to resupply various platoons in places difficult to reach by all-terrain vehicles in July 2014 during Exercise RIMPAC 2014.
Its designers have planned to install weapons on the machine, according to US defense news websites.