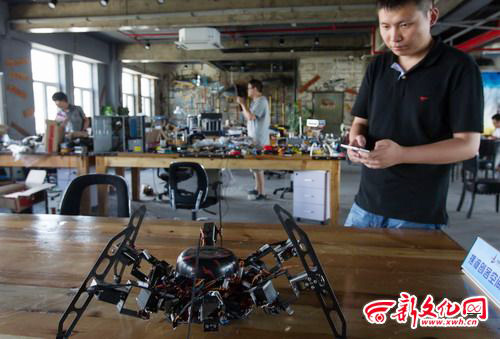 Physics graduate Niu Guangchong operates a self-made robot in his workshop. [Photo / xwh.cn]
CHANGCHUN - Physics graduate Niu Guangchong is pinning his career hopes on one day building a "robot kingdom".
The 24-year-old from northeast China's Jilin province recently turned down a much coveted graduate school offer from Jilin University to pursue his startup robot company.
So far he has made promising steps, assembling a team to design a nimble, spider-like robot controlled by a smartphone that may one day be used as a service tool on land, sea and air.
While Niu has placed his future on developing technology, the central and local government in China's northeast are anchoring the region's future on people like him.
As Heilongjiang, Jilin and Liaoning province are hit hard by economic slowdown, they are encouraging the young generation to go out and start businesses in hopes they can revive the once thriving region.
Economic malaise
Although mass entrepreneurship has been vigorously promoted across China, special attention has been attached to the northeastern region, whose traditional heavy industry has suffered acutely in modern times.
Of all 31 provinces, municipalities, regions on the Chinese mainland, the three provinces were among the four with the weakest economic expansion in the first half of 2015. A stunningly-low growth of 2.6 percent, compared with the national average of 7 percent, put Liaoning in last place.
During his trip to the region in mid-July, Chinese President Xi Jinping called for an innovation-backed economic growth model, encouraging a society-wide passion for innovation in order to revive the region known as the 'rustbelt'.
A cradle of New China's industry, the region gradually lost glory after the country's opening up. However, a 2003 plan brought a decade of turbocharged development thanks to supportive policies and increased demand for raw materials and heavy industrial products.
But in 2013, the region's economy began slacking once again as demand and investment declined as a result of the nationwide slowdown, which also pointed to the old industrial heartland's deep-rooted maladies of central-planning mentality and imbalanced economic structure.
Mass entrepreneurship and innovation will inspire the vigor of the market, boost private economy, and change the dominant role of sluggish state-owned companies, said Liu Shuming, a researcher with Jilin's provincial development research center. "It's a key to the old bases' rebirth."
Change & challenge
In early July, 22 measures were announced to boost entrepreneurship and new industries in the northeast by the National Development and Reform Commission, the Ministry of Science and Technology, the Ministry of Human Resources and Social Security and the Chinese Academy of Sciences.