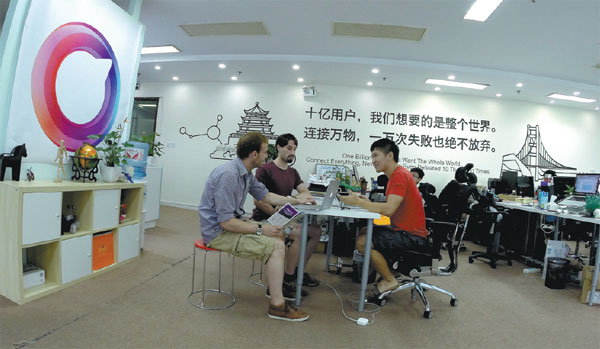 Young innovators discuss strategy at the office of New Born Town, a startup technology firm in Beijing. [Photo provided to China Daily]
Chinese startup companies are still confident of their future, despite the stock market slump, but said the flow of venture capital financing has tightened.
Liu Chunhe, founder and CEO of the Beijing-based New-Born Town, the fast-growing developer of mobile-based search platform Solo System, said the company had not been adversely affected by the A-share turmoil of the past few weeks.
"The nation's mass innovation and entrepreneurship strategy will not be halted by the stock market turbulence, and we are confident about our company's prospects," said Liu.
But Liu said, though financing from venture capital investors has tightened, his team finished the first round of fundraising at the end of last year, and still had enough working capital.
Startup companies typically receive investment in at lease three stages, or tranches, to meet their needs at different stages of development.
Liu said Solo System, which has 150 million users worldwide, had a valuation of around $100 million after its initial round was completed but declined to reveal how much it received. up
Wang Hongliang, the founder and CEO of Beijing-based Space-time Co, which claims to produce the world's lightest smart glasses, said it too is focused on meeting user demand rather than having to worry about financial performance.
"Alibaba Group Holding Ltd, Baidu Inc and Tencent Holdings Ltd all survived when the Internet bubble burst in 2001, and an important reason for that was they were able to meet customer demand well," said Wang.
Space-time will finish its initial stage of fundraising at the end of this month, and Wang said its valuation will not be influenced, sitting at around 100 million yuan ($16.13 million).
The money will be spent on producing smart glasses that can allow users to watch 3D videos and play Counter-Strike, a first-person shooter video game.
As for any future stock market listing ambitions, Wang said he still considers the A-share market a good choice, because of China's strong economy and huge market.