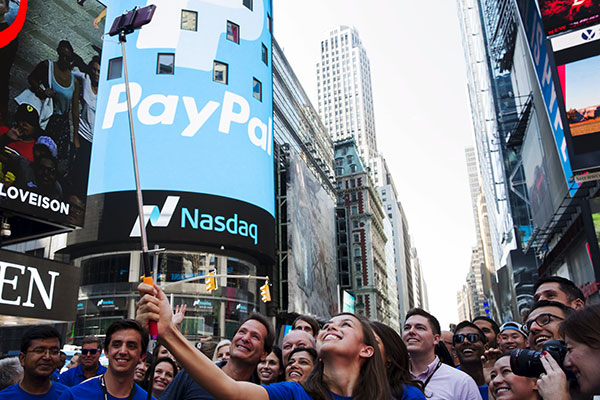 PayPal CEO Dan Schulman (center) celebrates with employees after the company's relisting on the Nasdaq in New York on Monday. [Photo/Agencies]
Company expects expansion in individual account transfers and online B2B services
Digital payments company PayPal said on Wednesday that though its growth in China was hampered by the lack of a third-party license, it would take more steps to connect its 10 million global retailers and companies to the huge market.
According to Matthew Lee, vice-president and general manager of PayPal North Asia, the United States company expects to achieve its goal in two years and make PayPal "a tool that consumers use every day".
The third-party payment market in China saw a 50 percent growth in value terms to 8 trillion yuan ($1.28 trillion) last year, according to market research firm iResearch Consulting Group. Even though PayPal has applied for a license several times, it has not yet got a response from the administrative bodies. But Lee expressed confidence that it would be the first foreign company to get the license.
"We will devote more efforts to grow individual account transfers and online business-to-business services once we obtain the license," he said.
PayPal is already offering individual account transfer services in China. But consumers are not too happy with the high fees charged for each transaction. Lee said PayPal's recent acquisition of San Francisco-based digital money transfer company Xoom Corporation will solve the problem to some extent and help expand its business in China as soon as the conditions mature.
At present, cross-border online shopping contributes to nearly all of PayPal's sales revenue in China. According to the company's estimates, the most popular choices are fashion goods, health food and baby products. Young couples with children, women keen on fashion, and young people who are fond of travel are the major consumers, according to Lee.
At the same time, the company will continue to help small and medium-sized Chinese companies enter the global market, a trend that has been increasing in the past few years.
"We provide a very good platform for the advancement of Chinese manufacturing industry, as most overseas customers put extra emphasis on the quality of products. Combined with the central government's latest economic strategies such as the Belt and Road Initiative, we believe that we will be able to play a major role," said Lee.
After it completed the spinoff from eBay Inc, PayPal saw its price rise by 5.42 percent to close at $40.47 per share on Monday for its public debut. The market value of the stand-alone online payment services provider is now $49 billion, way higher than the $35 billion of its parent eBay. In 2002, eBay acquired PayPal for only $1.5 billion.
Dan Schulman, president and chief executive officer of PayPal, said: "As an independent company, we see a tremendous opportunity for PayPal to expand our role as a champion for consumers and partner to merchants, and to help shape the industry as money becomes digital at an increasingly rapid pace."
Covering 203 countries and regions in the world, PayPal has more than 169 million active users and reached a total sales revenue of $8 billion. The total transaction volume completed on PayPal was as much as $235 billion, $46 billion of which was completed on mobile platforms. Regarding the current performance of PayPal, Wall Street analysts generally hold a positive outlook on the company, with nine of 11 brokerages monitoring PayPal holding a "buy" rating.