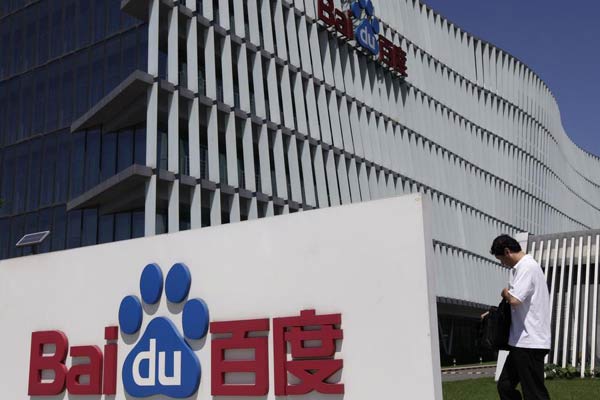 An employee walks past the Baidu company signage outside its headquarters in Beijing in this July 26, 2011 file photo. [Photo/Agencies]
Baidu Inc launched on Wednesday a service that helps retailers advertise on the smartphones of nearby users as China's dominant search engine company expands its location-based technology to drive growth.
Baidu currently makes most of its income from desktop-based search advertising and has lagged peers such as Tencent Holdings Ltd in capitalising on the popularity of mobile Internet in China, the world's largest market for smartphones.
It sees real-time, location-based technology as a way to boost advertising revenues from the rise of e-commerce in China, where government data shows more people now access the Internet via a mobile device than a personal computer.
"In the mobile era consumer behavior is changing, and the mobile Internet has given us new businesses and opportunities," said Robin Li, Baidu's chief executive, during the launch of the Baidu Connect service.
The service offers toolkits for merchants and software developers to build online-to-offline (O2O) applications, which seek to attract potential customers to nearby shops and restaurants via promotions and ads displayed on smartphones.
Baidu also said it had recently bought a $10 million minority stake in IndoorAtlas, a company that offers a special technology that allows smartphone users' positions to be tracked inside buildings, which is often difficult due to the metal used in structures.
Baidu's push into location-based services and O2O puts it increasingly at odds with Alibaba Group Holding Ltd, China's biggest e-commerce company, and Tencent.
Last week, Baidu announced a 5 billion yuan ($813 million) tie-up with Beijing-based conglomerate Dalian Wanda Group and Tencent to provide O2O services inside Wanda's commercial developments.
Like other tech firms, Baidu is also branching out into wearables. On Wednesday, it demonstrated its Baidu Eye, which uses a camera to scan objects and then synchs with a smartphone.