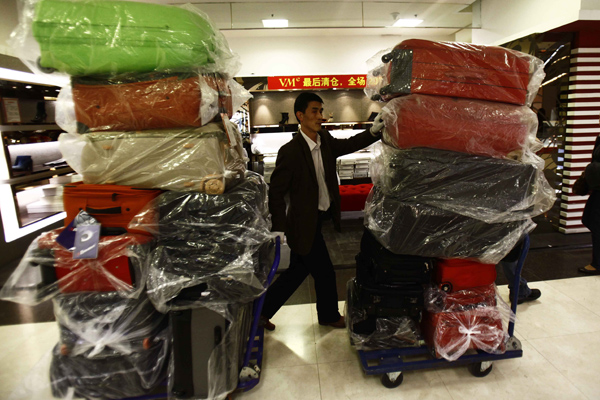 A shop assistant carries away packaged goods on the closing day of Pacific Department Store's outlet in Beijing in this file photo. [Photo provided to China Daily]
My "ladybro" (rough urban dictionary translation: a good platonic female friend) once told me that her biggest dream was that one day she could afford everything she wanted at the landmark Pacific Department Store on Shanghai's Middle Huaihai Road. But her fantasy turned to tears when that once-brilliant department store, after running nearly two decades, finally announced it was to shut down on Mid-Autumn Festival this year.
"It's ironic. After I finally reach the goal and am getting ready for a mega shopping spree, it closes its doors for good," she sighed. I get what she feels. It's not just about the death of one famous department store-and the passing of youth-but touches on a deeper issue.
Almost any locals over 30 still recalls the shock, the impact this department store had on our city, with its hip designs, glittering counters, eye-catching products and a wide selection of big-boy brands. The store was such a hit in the local market that it even became a preferred first-date meeting place in the early days.
For another friend of mine, her glowing memories of the department store were the high prices, warm smiles and service and throbbing crowds.
"A pair of Nike or adidas sneakers would cost 400 to 500 yuan ($60-$75), about half of Shanghai's average income per month in 1997," she said.
At 10 sharp every morning, she recalled, the staff would make deep bows to welcome the customers. And during your shopping, the saleswomen would provide a star service to help you choose the ideal goods.
In the sales season, the thronging crowds had to jostle arms and shoulders just to make their way along the counters, she said.
It was a stark and sad contrast to what I saw in the final days of Pacific Department Store in July, when I could only spot a couple of customers on its first floor.
A shop assistant at a makeup counter told me that although she was a new employee, she could sense the gloomy fate awaiting the store. Beside her, a colleague was napping on the counter.
When I went downstairs to the food court, the lights weren't fully switched on and some shops were already closed.
Many people are blaming the unstoppable rise of e-commerce, luring consumers away from traditional physical stores. But if we delve a little deeper into the subject, what should be blamed instead is stereotypical and shortsighted management that became insensitive to the changing tastes of the public.
Just a stone's throw away, K11 Art Mall is becoming the new retail place to go since its latest renovation in early 2013.
The mall has kept surprising me with its changing romantic and artistic scene from season to season, as among other events it has played host to an exhibition of the works of French impressionist painter Claude Monet and Spanish surrealist Salvador Dali.
Also on the Middle Huaihai Road, the two-storey glass-walled Apple Store is always packed with people trying out its latest products-and not only the long queues on the release day of new products.
Although the two retailers offer totally different products, customers are drawn by their uniqueness.
In the red-hot highly-competitive Chinese retail market, quality and innovative products with recognized branding are becoming more and more important. So important, they could well prove to be the lifeline of a store.
Retailers without a competitive edge can easily be forgotten by the expanding Chinese middle class, a group of consumers with sharp, discerning minds and refined tastes.
From January to June, 68 out of the top 122 listed retailers in China reported shrinking revenue, a decline steeper than the year before.
But some foreign retailers still believe in China, as a promising market to enter. The Galeries Lafayette Beijing store reported a 13 percent year-on-year rise in first-half revenue.
That retailer did not explain the details behind its growth, but the existence of the only physical store for British high street brand Topshop and Topman on the Chinese mainland, as well as popular brands Self-Portrait, Sophie Hulme and Philipp Plein, made it chic and unique to Chinese buyers.
Although my resourceful ladybro still has other ways to get to her favorite products, it's a pity she's lost her dream store. But it is not the end of the road for quality physical retail outlets-as long as they keep offering keenly-pitched and well thought out products and exploit to their advantage their physical presence as a considerate and hassle-free shopping experience.
Contact the writer at wang_ying@chinadaily.com.cn