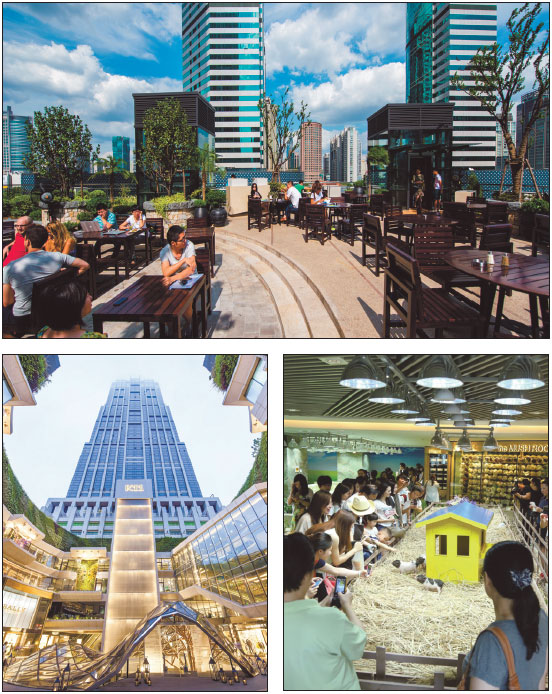 Top: Customers relax in the sixth-floor rooftop garden of the Shanghai K11 Art Mall. Above left: An overall view of the mall. Above right: Piglets play in a K11 urban farming display. Photos Provided to China Daily
A modern-day retailing dilemma is how a brick-and-mortar mall can maintain growth in the increasingly online shopping world?
The solution, said Adrian Cheng, the founder of K11, is to run the property as if it were a museum.
In the past three quarters, the 40,000-square-meter Shanghai K11 Art Mall, which opened in 2013, achieved double-digit growth in revenue and a 100 percent occupancy rate, he said.
"Many people say the retailing business is declining in China," Cheng said. "However, we are different. We are a museum. We adopted a 'museum retail' concept and operate K11 as a club. We have many fans who support us."
The concept Cheng refers to is a new retailing model he created in 2008 that blends art with commerce.
The model transforms K11 into a contemporary art museum that serves people with sophistication and global vision. Those customers are predominantly aged between 25 and 45 and most are female, Cheng said.
"Many of them are fashion lovers and white-collar workers who are ready to accept new concepts. They have a deep understanding of the arts and know about the arts and concepts through different channels.
"People come here not just to buy - they are also here to experience art," Cheng said. "My mission is to create a journey of imagination and I always have workshops, seminars and jazz festivals, and everything gets connected to this imagination."
To satisfy the unique demands of his sophisticated customers, Cheng and his team are striving to differentiate K11 from traditional shopping malls.
"When I started K11 in 2008 and 2009, I did not position it as a shopping mall where we simply receive rent from tenants. We never call ourselves a landlord. We call ourselves a brand," said Cheng. "K11 and our brands are like partners.
"Why do you buy a brand again and again? Because the brand has soul, personality, creativity and originality."
Even the parking spaces at K11 are painted in different colors to give visitors a unique parking experience.
Only the best
From Home Thai to the Vivienne Westwood Caf, many providers in K11 are the brand's first location in China. They have quickly become popular and Cheng said a good understanding of one's customers is key.
"K11 and our customers are friends. We respect and grow with our customers. I understand what they want because we are in the same age group," Cheng said.
To bring the best offers to K11's customers, Cheng actively hunts out brands. Locally developed coffee brand Seesaw Coffee was introduced to K11 after Cheng sampled all the coffee shops in Shanghai.
"It is not a widely-known brand but I am sure it is the best coffee in Shanghai," he said.
The K11 team also approached the ABC cooking studio because Cheng knew of the brand from Japan.
"You should believe your fans will like the brand," Cheng said.
The entrance of a new brand must gain approval from Cheng, who considers whether it fits the atmosphere and core values of K11.
K11 is also bringing world-famous masterpieces to China for their first exhibitions in the country.
The first large-scale solo exhibition of works by Claude Monet was held in K11 from March through May of 2014. The show displayed 40 original Monet paintings and attracted about 350,000 visitors.
By combining art with commerce, K11 has become one of the most popular leisure destinations in Shanghai.
As a museum that offers people a journey of imagination, Cheng said K11 does not push consumers to spend, however, the mall is seeing big growth in both income and customers.
All the luxury stores in K11 recorded higher than 20 percent sales growth in the past three quarters, better than the market average in Shanghai, Cheng said.
The number of K11 gold membership cardholders increased from 5,510 to 12,000 in the past year and the average amount spent per VIP member increased about 15 percent from 2014. K11 requires a customer to spend more than 5,000 yuan ($805) in one day or 25,000 yuan in three months to be eligible for a gold membership card.
It was reported that sales at K11 increased by 30 percent during the Monet exhibition.
Many other shopping malls in China are trying to replicate K11's successful model but this is not an easy task.
"The founder is like a parent who communicates their core values to their children. Then the children will act like the parent. Many things only the founder knows the key point of," Cheng said.
"You can run the system, but there are many things that require the founder's leadership and execution skills."
Cheng plans for 19 K11 projects within the coming five years in cities that include Beijing, Guangzhou and Haikou.
As residents of different cities have different preferences, he said, each mall would be designed accordingly.
zhuanti@chinadaily.com.cn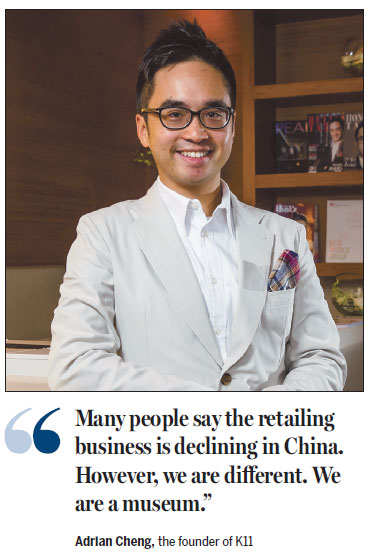 (China Daily 06/12/2015 page15)