Mall of China, a world-class cross-border e-commerce platform, went into operation at Chongqing International Exhibition and Trading Center in Chongqing municipality on July 28.
Mall of China is a new type of hi-tech health store of 1,600 square meters, created by China Creation Group. It uses business-to-customer (B2C) and online-to-offline (O2O) modes to provide protected online and offline trading of premium products from European and North and South American countries, as well as others.
It is a convenient platform where consumers can buy after-tax imported products in the store directly and or can place orders on the mall's website. Internet access to domestic banks is available to pay for online purchases.
Products which are 20 to 50 percent cheaper than the market price can be delivered to consumers' homes in Chongqing within two days, and Mall of China provides mature services for after-sale refunds and exchanges.
China Creation Group is a nationwide urban operator dedicated to the development of new cities. With the support of international high-end financial resources, the Group has developed key projects in first or second tier cities of China, such as Beijing, Shanghai, Chongqing and Suzhou.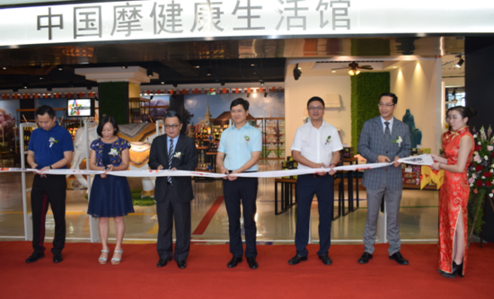 Ribbon-cutting Ceremony of Mall of China's Health Life Hall. [Photo/Liangjiang.gov.cn]