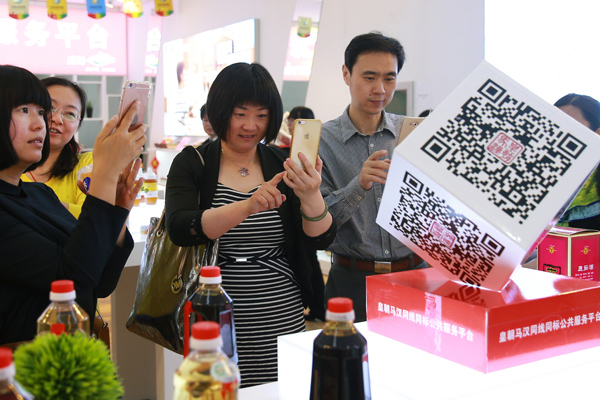 Consumers use QR code to pay at food expo in Beijing. [Photo by Zhong Hong/China Daily]
I recently realized that I could go days or even weeks without my wallet after I became a belated adopter of barcode payment in an increasingly cashless society.
I used to withdraw some cash from ATM machines several times every week for lunch, gasoline, groceries and incidental expenses. I would pay by credit card for bigger transactions, such as the online purchase of a family tour package. But, sometimes I also paid large sums of money contained in envelopes.
Moneywise, I'd always believed that keeping cash on hand could help one avoid overspending. A past consumer study showed that people shopping with credit cards tended to focus more heavily on product features, while cash buyers paid closer attention to costs.
So, what has prompted me to give up cash from time to time in favor of a mobile payment app that has easy access to my bank account, just like a credit card?
It all started with my daily lunch at restaurants near my office that were mostly frequented by college students and young company employees. While I paid cash, I noticed more people paying by scanning a QR code.
I decided to give it a try and, before long, I had become a frequent user of mobile payments at restaurants and beyond. The most immediate benefit was that I wouldn't have to count out coins and crumpled bills as Chinese customers are expected to have the exact amount when they pay, especially at rush hour.
I have also been spared the little math game with a sales assistant over the change. Say a meal costs 26 yuan ($3.9). The assistant may ask you to pay 31 yuan so she could give you back a 5-yuan note instead of four 1-yuan notes or coins if you pay 30 yuan.
As I grew more familiar with WeChat Wallet, my favorite mobile payment app, even having a meal with colleagues had become easier due to its "Go Dutch" function.
When we eat out together, we follow a "taking-turns-to-pay" model instead of splitting bills. But, what if some bills are higher than others, or worse, if someone doesn't want to show up at future gatherings? With the app, it takes only one person to make the proposal, and the bills will be split and each person's share collected while we continue to eat and chat.
In retrospect, I understood why my child's private tuition teachers had insisted on mobile payments instead of wads of cash.
But, I would be exaggerating if I say I've had no qualms about mobile payments. As we wield a cellphone around, we need to be more disciplined to curb impulsive buying, especially when tempted by various incentives that encourage us to scan a QR code, which is essentially no different from paying by credit card.
And we probably have all encountered promoters who ask you to scan a QR code in exchange of small gifts. I once scanned a golf club's code for several balls and a parking service provider's for a bottle of window wash, which led me to add their personal accounts on my cell phone. Some trusted retailers' accounts could also make uninvited visits to your cellphone after you pay by scanning their code.
Will the harvesting of WeChat IDs herald another tide of spamming and frauds intending to use cell phone users' financial information for illegal withdrawals or purchases? We don't know yet. But, we've been just too familiar with unwanted marketing or fraudulent messages targeting selected cell phone numbers.
I'll still have my wallet and cash with me. It's fast, convenient and hip to scan the code. But if you're smart, your wallet will be filled.
Contact the writer at dr.baiping@hotmail.com