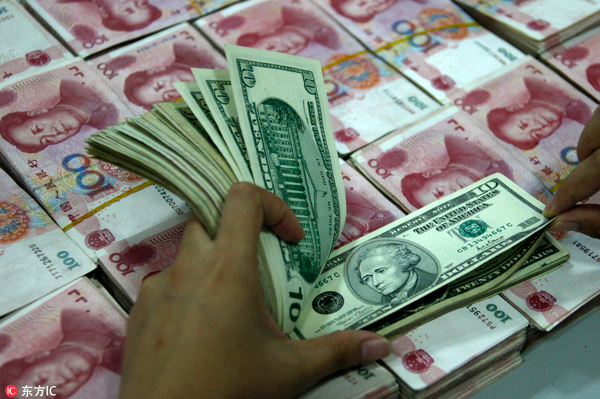 A clerk counts yuan bank notes and US dollar bills at a bank of the Industrial and Commercial Bank of China in Huaibei, East China's Anhui province, Nov 28, 2012. [Photo/IC]
BEIJING - The central parity rate of the Chinese yuan continued to weaken Tuesday after hitting a six-year low against the US dollar Monday. Analysts say this indicates the yuan's exchange rate has entered a new float range and the currency will stay basically stable against other currencies.
The central parity rate of the renminbi, or the yuan, weakened 90 basis points to 6.7098 against the US dollar Tuesday, according to the China Foreign Exchange Trading System.
A senior foreign exchange trade executive from a large domestic commercial bank said this indicated that the yuan's exchange rate would fluctuate between 6.80 to 6.70 in the future and its recent inclusion in the IMF Special Drawing Right (SDR) basket will help the currency stay basically stable against other currencies.
Lu Zhengwei, chief economist with the Industrial Bank, said the high volatility of major currencies such as the British pound against the US dollar since the beginning of October led to a stronger dollar index while the yuan's exchange rate remained unchanged during the National Day holidays.
At present, market makers follow the central parity rate price mechanism, which includes the reference to a basket of currencies, reference closing prices and the filtration mechanism under severe fluctuation.
Following the yuan's drastic depreciation Monday, the central bank did not trigger the filtration mechanism as in the past, which is a new signal of more market-oriented policies with a greater tolerance of yuan volatility, said Xie Yaxuan, an analyst with China Merchant Securities.
Sun Lijian, a senior finance researcher with Fudan University, said the yuan is under increasing pressure of depreciation since the United States posted better-than-expected manufacturing PMI index, consumer confidence index and employment data. Taking into account the November US presidential election, he expected a rise in the US interest rate in the middle of December.
However, analysts say, the yuan's exchange rate also follows changes in the supply and demand of the foreign exchange market. As the supply and demand has become basically stable, the yuan's exchange rate is winning support.
"Judging from recent economic data, the economic actors' understanding of policy makers' intent has strengthened, the exchange rate is expected to be stable, so the recent depreciation will have a limited influence on the financial market and the behavior of main economic actors," said Xie Yaxuan.
China Foreign Exchange Trade System published a commentary on Monday afternoon, saying that "from a medium-long term view, given the fundamentals of the current account surplus, the abundant foreign reserve, the balanced fiscal condition, the robust financial system, there is no basis for renminbi to depreciate continuously [...] the yuan exchange rate will remain generally stable at a reasonable and equilibrium level against a basket of currencies."