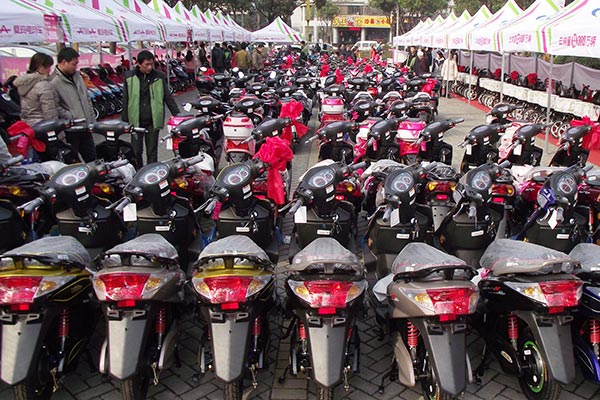 Visitors view AIMA e-bikes at a new energy expo in Nanjing, Jiangsu province. Tianjin AIMA Bikes Co Ltd is a leading e-bike maker in China, with annual sales of more than 3 million units.[ZHEN HUAI / FOR CHINA DAILY]
Taking advantage of the central government's latest policy to encourage the development of clean-energy vehicles, Chinese e-bike producers have grown rapidly in recent years. Brands such as AIMA, Luyuan and Yadea have become popular products in the market.
Zhejiang Luyuan Electric Vehicle Co Ltd and Tianjin AIMA Bikes Co Ltd are two leading e-bike manufacturers in China. Zhejiang-based Luyuan says on its website that it offers 100 different vehicle models, with three main product lines: Lead-acid electric bicycles and scooters, lithium-ion electric bicycles and scooters, and multipurpose specialty electric vehicles. Tianjin-based AIMA has developed very fast in northern China, with annual sales of more than 3 million e-bikes.
But this may be bad news for Chinese motorists and pedestrians, as laws and regulations are yet to be drawn up or enforced for the use of such vehicles.
For starters, in the streets of Beijing, many electric bicycles now have a maximum speed of about 60 kilometers an hour. They look like motorcycles driving on roads, but have no engine roar, no horn, and no license plate.
A few days ago a friend of mine complained to me that if he hadn't dodged in time, an e-bike would get him on his legs. "The speedy vehicle suddenly appeared in front of me and I almost hadn't got enough time to react when it appeared on the pavement," he said.
I often walk to work from my home, but the 15-minute walk is like an adventure, because I have to look in all directions and be well prepared to dodge a vehicle, e-bikes in particular. According to official data, China now has more than 200 million electric bicycles on roads, including 4 million in Beijing.
So, who is to blame for the problem?
First, consumers, who are required to have a driving license before buying a motor vehicle from a retailer, and need to get the vehicle registered at the local traffic department for a license plate before driving it on the road. If e-bike owners want to drive their over-standard vehicles on the roads, they must handle the relevant procedures according to the current administrative rules.
Second, while bikers are often blamed for the problem, I believe the producers are also responsible for delivering the vehicles in violation of regulations. Under the current administrative rule, namely the General Technical Requirement for Electric Bicycles, an e-bike that does not need a license plate must not weigh more than 20 kilograms and have a maximum speed of 20 km per hour. But, it is believed that at least 90 percent of brands on the roads violate the rule.
The swelling demand for e-bikes is no doubt such a big business that it cannot simply be throttled by the government as a result of errant riders' weak awareness of the law. Therefore, proper guidance is the only way out.
According to official data, the industry now has an annual revenue of 100 billion yuan ($15.87 billion), with annual double-digit growth over the past decade. Improvements to the government's current rules and retailers' proper guidance of consumer behavior are now needed more than ever before.
E-bike producers also need to be more self-disciplined in production and strengthen their sense of corporate social responsibility. In this respect, experiences in more advanced economies are also worth looking at.