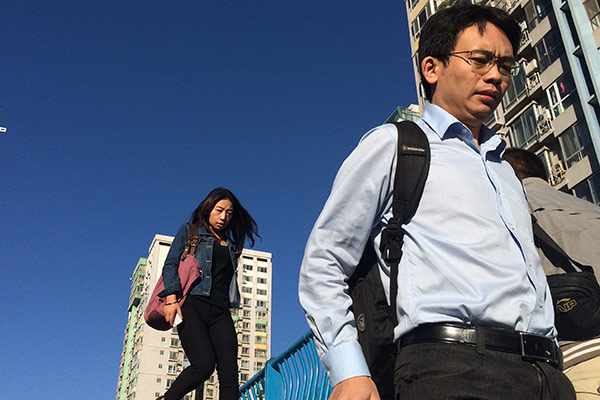 Two office workers walk past an overpass in Beijing. For young people, living in big cities such as Beijing means better lifestyle and greater chance of success.[BAI JIKAI/FOR CHINA DAILY]
Selling one's apartment in a big city and embracing the quiet small-town life was once a romantic dream of many Chinese who were fed up with the choking smog, endless traffic jams, and the stressful, expensive metropolitan lifestyle.
But a friend of mine, who was once an escapee of the big-city life, moved back to Beijing recently. She told me that there was no romance at all in living in smaller cities, at least for her.
Two years ago, she was lured to Kunming, the capital of Yunnan province in southwest China, by its clean air, the pleasant year-round mild climate, the local ethnic culture, the laid-back lifestyle and much lower living cost.
But it did not take long for her to regret her decision.
She worked in the local office of a big Chinese online travel agency. Contrary to her belief that the Internet and information technology have flattened our world, life in Kunming made her feel increasingly left out of the rest of the world.
"Living in Kunming is like living in the past. People dwell on their fortune made from the mining business or speculating in the property market," she said.
She cited some other reasons: Low workplace efficiency, under-motivated colleagues, under-developed IT industry, limited career opportunities and shortage of good public resources.
Eventually, she quit her job in Kunming, packed her bags and flew back to Beijing, without even landing her next job.
My friend's story reveals a troubling trend in China: smaller cities are losing out in the competition for talents. And the consequent brain drain, coupled with a painful economic transition, could further widen the disparity between big cities and smaller ones.
Kunming, with a population of 7.2 million, would be considered a big city by any standards in the world. But it will probably qualify only as a second- or third-tier city in China, if measured by its people's income level, the quality of its public resources and its economic competitiveness.
For many people, especially the younger generations living in rural and semi-urban areas, getting to top-tier cities such as Beijing and Shanghai still means better lifestyle and greater chance of success.
The concentration of quality public resources such as good schools and hospitals in the big cities has enabled them to dwarf smaller cities, absorbing the latter's young labor force. What might entail when the era of abundant supply of cheap labor comes to an end, remains to be seen.
Experts have pointed out a dangerous polarization in China's urbanization process: declining small towns with poor infrastructure, insufficient public resources and fewer job opportunities versus sprawling and overcrowded metropolises that suffer from shortage of resources and environmental problems.
In fact, the number of smaller cities in China has shrunk and many rural villages have even vanished over the past two decades while the urban concrete jungles continue to expand.
The big-city effect is a global phenomenon. But the vastness of the country and the sheer size of its population mean that China cannot afford to accomplish its urbanization by merely expanding its mega cities.
The plan to integrate Beijing, Tianjin and Hebei province into some sort of a megalopolis appeared to be one solution adopted by the government to address the issue. The Beijing municipality has also decided to relocate itself and the headquarters of some State-owned enterprises to the suburban district of Tongzhou, in the east of Beijing.
Ideally, such plans will allow the neighboring towns and cities to share the developmental benefits of Beijing while helping alleviate the population pressure that the capital has been suffering. Greater government spending on education, healthcare, and social safety net could also help smaller cities retain talents. Whether such plans taste success remains to be seen.
My friend moved back to Beijing simply because she could. But for parentless children and vulnerable senior citizens who are stuck in their declining hometowns, and the migrant workers who were forced to return home after losing their jobs in the big cities, life could be miserable.
The Chinese dream is not just about pursuing glamorous metropolitan life. It is also about making life desirable in the smaller cities and people having the freedom to choose where to live.