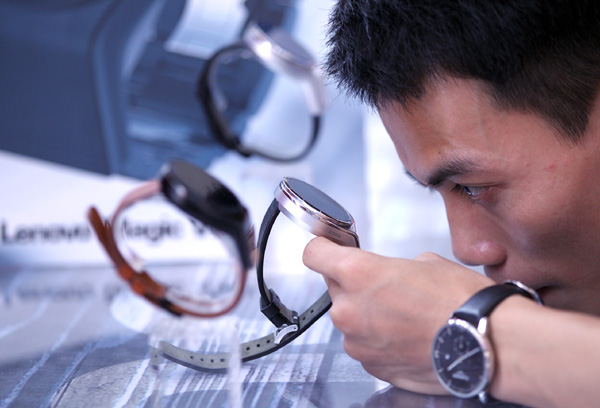 A visitor takes a close look at the smartwatch unveiled by Lenovo Group Ltd in Beijing, May 28, 2015. [Photo/China Daily]
NEW YORK - China is transformed from a nation of producers to a nation of consumers, said Stephen Roach, senior fellow of Yale University's Jackson Institute of Global Affairs, on Thursday.
"The key understanding of China is not the number of GDP, but the mix of economy," said Roach on a discussion held in China Institute.
In his eyes, China has two models of economy: the old one driven by fixed investment and exports, and the new one boosted by private consumption.
The old model, which fueled China's economy growth in the past three decades, is decelerating, while the new model is still in its incipient stage, he said.
And the gap is continuing to widen. Services activity grew 8.4 percent year on year in the first half of 2015, far outstripping the 6.1-percent growth in manufacturing and construction, according to an article written by Roach recently.
In 2014, the service sector contributed 48.2 percent to China's GDP, exceeding the combined 42.6 percent share of manufacturing and construction, according to the article.
The shift toward a services-based new model lifted the downside pressures in the manufacturing-based old model, he said.
During the meeting, Roach predicated that the service sector could account for 65 percent to 70 percent of China's economy in next 20 years. "This is the key piece of transformation story of China."
He stressed that services is the infrastructure of a consumer society and generated more jobs. In China, services require about 30 percent more jobs per unit of output than manufacturing and construction.
Roach also pointed out that jobs in China have been shifted to labor-intensive, services-led growth. The urban job creation target has been 10 million per year since 2013.