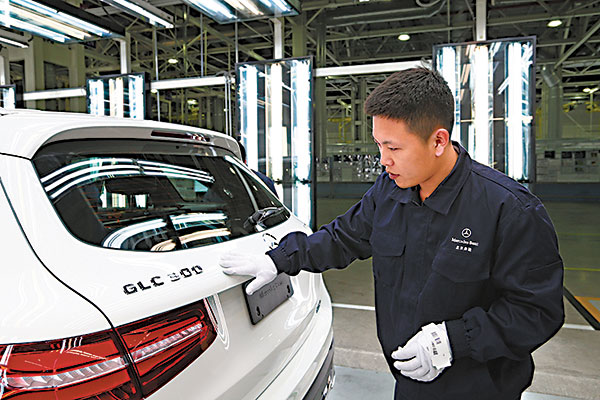 An engineer from BBAC checks a GLC SUV at the production plant before it rolls off the line. [Photo provided to China Daily]
Mercedes-Benz began local production of its All New GLC SUV in October at its joint venture Beijing Benz Automotive facility just six months after its new compact GLA SUV began local production.
The successful GLK, the predecessor of the GLC, has been locally manufactured at the BBAC since 2011. The start of production for the GLC marks the successful start of the company's second development phase for new rear-wheel architecture vehicles.
Covering over 250,000 square meters, the new production facilities include an assembly and body shop.
This second phase of BBAC's Rear-wheel Architecture project began in 2012, with an investment as part of over 4 billion euro ($4.27 billion) that Daimler and BAIC are investing in the joint venture.
With the new GLC now rolling off production lines, the second stage is fully operational, and features the latest Mercedes-Benz production systems, processes and technologies.
To fully meet the needs of local Chinese consumers, however, Mercedes-Benz went the extra mile. The All New GLC SUV underwent more than 420,000 km of strict local testing, and takes into account the research results to meet the demands of local customers.
Accordingly, many aspects of the new SUV were specially tailored to the Chinese market. The rear seat cushions have been deepened over the base model, and with a 230 volt power socket in the rear compartment's center console, provide added comfort and convenience for those riding in the rear. In addition, a brilliant blue exterior color will be available for the GLC's launch in China, months before the rest of the world.
The engines powering the All New GLC are also produced locally at BBAC in Mercedes-Benz's first ever passenger car engine plant outside of Germany. The GLC features a localization rate of up to 60 percent, depending on the variant.
BBAC's history of local product stretches back beyond the GLA and GLC. The production facility has been a focus of localization for 10 years, producing Mercedes-Benz passenger cars since 2006 and engines since 2013.