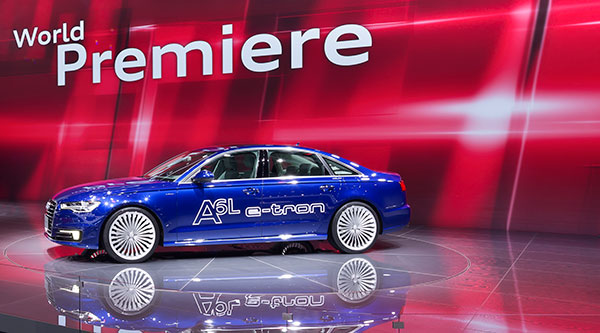 The A6L e-tron co-developed by Audi and its joint venture in China, FAW Volkswagen. It will hit the Chinese market next year.[Photo provided to China Daily]
There has been a flurry of changes at the top of some of the leading global luxury car companies in China in recent weeks, which are being attributed by analysts to quickly slowing growth and falling sales across the domestic market.
In the first half of the year, many marques in the luxury segment have seen sales declines for the first time since they entered the world's biggest market, within an overall 1.7 percent year-on-year industry-wide sales drop.
Although all the automakers contacted by China Daily denied the relationship between high-level personnel changes and sales declines, they seem unlikely to be unconnected.
The three best-known German luxury brands-Volkswagen AG's luxury division Audi, BMW AG, and Daimler AG's Mercedes-Benz-and India's Tata Motors-owned Jaguar Land Rover, have all seen senior executives depart from their China operations, and subsequent management reshuffles.
At Audi, for instance, Dietmar Voggenreiter, who had headed the China business since 2007, was replaced by Joachim Wedler, the company's head of product planning, from Sept 1.
Under Voggenreiter's leadership, its annual sales have jumped sevenfold, accounting for 2.5 million of the 3 million Audis ever sold in China, the company said. But China sales at Audi, Volkswagen AG's premium unit, fell for the first time in more than two years in May and again in June.
BMW has also been bitten by the Chinese slowdown, analysts say, who think decelerating delivery growth may force the Munich-based automaker to revise its annual group profitability targets.
The dented numbers at BMW have also been accompanied by China management changes at the company, which saw Harald Krueger, 49, succeeding Norbert Reithofer as BMW's global CEO in May, a year earlier than expected.
Wu Shaoge, vice-president in charge of markets at BMW Brilliance Automotive Ltd, its China joint venture, resigned in June only after half a year in the post.
In the wake of that, Liu Zhi has been promoted from vice-president of BMW's southern region in China, to vice-president of sales for the national operation, and former sales vice-president Zhu Tong has now become vice-president in charge of the company's flagship "Zinoro" project-BMW Brilliance's all-electric crossover based on the BMW X1, and its first new-energy vehicle.