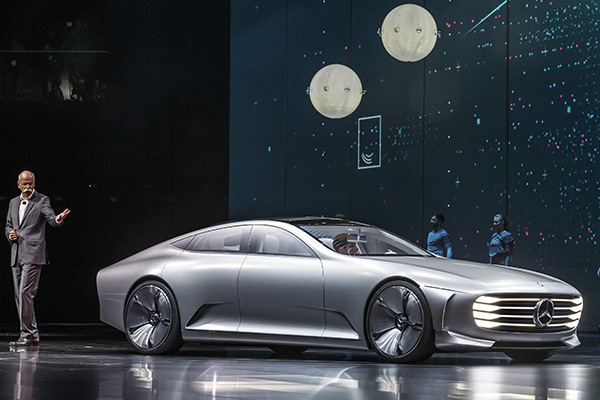 Dieter Zetsche, chairman of Daimler AG and head of Mercedes-Benz Cars, introduces the world-premiere Concept Intelligent Aerodynamic Automobile at the ongoing Frankfurt motor show. [Photo provided to China Daily]
Dieter Zetsche may not know the Chinese name of Mercedes-Benz, "Ben Chi", means "galloping", but he is confident the luxury brand's sales will continue to gallop in China, where its major rivals have lost steam this year.
Zetsche, who is chairman of Daimler AG and head of Mercedes-Benz Cars, said in an interview at the 2015 Frankfurt motor show that he expects the brand's "significant double-digit growth" to continue this year in China, and he is also optimistic about growth next year.
"We do have a plan for our sales development in China for this year and next year. ... Obviously, we are in a catch-up mode," Zetsche said.
Sales of Mercedes-Benz have been growing much faster than Audi and BMW in China this year, although its sales numbers still lag behind its competitors.
In the first eight months of 2015, China sales of Mercedes-Benz rose by 30 percent year-on-year to more than 227,000 cars. Meanwhile, Audi's sales decreased by 0.8 percent and BMW lost 0.9 percent.
In August alone, Mercedes-Benz sales in China rocketed by 56.7 percent.
Encouraged by such strong growth, Zetsche said Mercedes-Benz will bring almost its entire product portfolio to China by around 2020. The brand will have 40 models in total by then, up from 30 at present.
Zetsche said the Chinese market is considered "first place" for Mercedes-Benz globally and the brand will consider "Chinese preferences" in future development of the brand.
Hubertus Troska, chairman and CEO of Daimler Greater China, said Mercedes-Benz sales in China will be "significantly more than 300,000 units" this year.
He attributed the brand's robust performance to "its good sales organization and good relations with dealers" as well as competitive new products in China.
Nicholas Speeks, Mercedes-Benz's sales chief in China, said there is no "silver bullet" for success in the country except having good relations with partners, dealers and customers.
"We should bring right products to our customers in China at right time," Speeks said.
Mercedes-Benz plans to introduce many new products to China this year and next, including three SUV models-the locally made GLC and imported GLE and GLS. The GLC is roomier than its predecessor GLK.