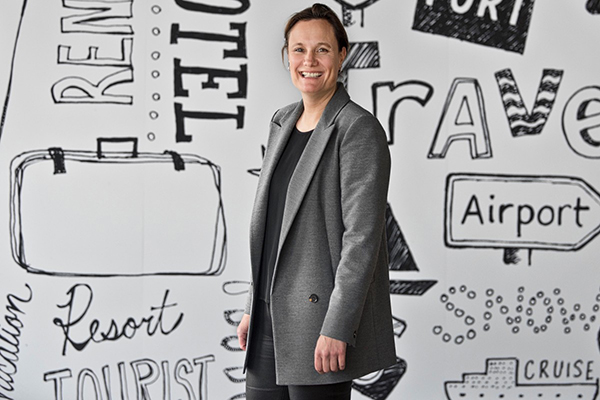 Gillian Tans, chief executive officer of Booking.com. [Photo provided to China Daily]
Remaining innovative and helpful key to online hotel booking giant's plan to expand, says its chief
Speaking four languages and having traveled and worked around the world, Gillian Tans' experience points to her being a savvy backpacker who has been discovering the wonders of being "on the road".
But Tans works beyond her own traveling experience as the CEO of Netherlands-based Booking.com, one of the biggest online accommodations agencies by number of rooms/nights booked, a position she was appointed to in April 2016.
Married to a native of Hong Kong and a big fan of homemade Cantonese food, Tans now leads a team operating in 225 countries and regions who help tourists have better and safer stays-and with more fun.
Remaining innovative, aiming to break barriers for travelers during their trips, is key to Booking.com's strategy to expand, said Tans.
The following are edited excerpts of her recent interview with China Daily.
How do you describe Booking.com's business in China? What strategies will you adopt to expand your business in China as the new CEO?
In short, Booking.com's business in China is exciting, growing fast and full of potential. We want to play a bigger role in inspiring Chinese travelers with incredible stays, not only in China, but in every corner of the world. In theory, our strategy for the Chinese market is actually quite simple and in many ways matches our overall global strategy. We listen and learn from our customers. For example, mobile payments are really common in China due to the popularity of platforms like WeChat-and that's something we're learning from and adapting to quickly.
Chinese consumers are getting more savvy and exposed to more channels than ever before. How will you meet the changing tastes and demand of Chinese travelers?
Chinese customers are starting to demand more choice. This is great news for us, because that's actually our specialty at Booking.com. We have nearly a million different types of accommodation that includes everything, from beachfront holiday homes to treehouses, boats, and even luxury tents.
Finding accommodation is about finding the stay that also connects you to the things you love doing. Whether that's skiing, castles or gourmet food, just type it into the search box at our Passion Search platform and we'll provide you with an awesome list of destinations that are perfect for exploring further.
What're the opportunities and challenges for Booking.com in China?
Without a doubt, China is one of the most important markets for Booking.com. It is a big opportunity for us to bring more international travelers to visit the country, and there is an even larger opportunity for us to serve the massive numbers of increasingly independent Chinese consumers who want to travel more and explore as much of the world as possible. This is an opportunity and a challenge, as Chinese consumer habits and product design are quite unique. Product localization has been a primary focus for us since we first arrived in China.
What's your competitive edge with rivals in China?
In contrast with some of our competitors in China, we stand out in terms of our global reach and offering. Booking.com offers more than 978,000 accommodation options in 224 countries and regions worldwide.
For our Chinese accommodation partners, our global presence enables us to connect them with large numbers of international travelers.
We use technologies to break language barriers. Imagine you're traveling to Paris and need to tell the property you're going to be late. Don't speak French? No worries! Simply type to them in Chinese and they'll receive the message in French through our app solutions. You'll also receive their response in Chinese. It's almost like magic.
How do you work with Ctrip? Do you share properties on your sites?
Our parent company, the (US) Priceline Group, is one of the largest shareholders in Ctrip.com International Ltd, having first invested in the company in 2012. The initial investment and commercial relationship expanded in 2014, and again in 2015. Through this strategic partnership, Booking.com lists Ctrip's inventory of accommodation options in China. In return, Ctrip is also able to offer its users a wider array of deals from Booking.com's platform. It is an integral part of our long-term growth strategy to work with a leading online travel company in China and we expect this relationship to continue to bring value for both of companies-and our customers-for many years.
How can Chinese travelers make better use of Booking.com?
The best tip I have for Chinese consumers is to read reviews from other travelers. On Booking.com, we have more than 98 million reviews from real guests who've actually stayed at each accommodation, including millions of reviews from Chinese travelers. I use them a lot to find out what other people have experienced and to spark my imagination. You can read what it was like for someone else to trek over the tundra to an igloo in Finland to check out the Northern Lights, or to sleep in a treehouse at an eco-resort in the rainforest in Belize.
What are the places in China you'd like to take international travelers to? And what are the places in the world you'd like to take Chinese travelers to?
China is an increasingly popular country to visit in the world. But it is also incredibly vast and diverse, with incredible natural beauty, large bustling cities and amazing food. In terms of my goals for international travelers, I'd like to help inspire them to explore further and discover some of the more remote destinations in China. This is also on my own personal travel bucket list. I really think you could spend an entire lifetime exploring China and never be done.
What's your management style like? Your mantra?
My management style is all about empowerment. At Booking.com, we have always been proud of the fact that we put decision-making responsibilities in the hands of every employee. That has always been our secret to staying agile and flexible. Furthermore, we have a very open culture at Booking.com. I like to sit out on the floor with everyone else so everyone can approach with an idea or a question. The best advice I ever received was to not let success go to my head or for failures to get to my heart.
How do you juggle between work and family?
Being CEO of any large company is all about prioritization. It's an art and it definitely takes practice. What I have learned is that I need to be present and really in the moment wherever I am. I make sure that the time I'm dedicating to my kids or my husband or my friends or to any important project at work is always of quality. I have a bunch of WhatsApp groups set up with my friends to stay in contact as I bounce all over the world for work.
What travel apps do you use?
Obviously as the CEO of Booking.com, I am a big fan of our app and use it all the time to book my stays, whether I'm traveling for work or in my private life. It's easy, reliable and gives me the choice and flexibility I need. I'm also addicted to Uber. I use it everywhere I go. Google Maps is very handy and I use it all the time.
What sort of accommodation do you prefer when you travel to China? Have you ever made complaints?
Most of the time when I'm traveling to China for business, I end up staying at hotels that are close to our local teams or wherever I'm having meetings. So for me, I would say it's more about location than it is about a certain type of accommodation. I'm a pretty low-maintenance traveler, so I don't really complain a lot. That being said, my absolute biggest pet peeve is having to pay for Wi-Fi at a hotel and then finding out that the quality is not good. Having to struggle with a weak or wildly inconsistent signal is like torture for me.
What's your favorite Chinese food?
I love Chinese food... my whole family does in fact. Whenever we have a big celebration or someone asks me what I want to have for my birthday dinner, I always know the answer-traditional Cantonese food made by my mother-in-law. She's an amazing cook and prepares dishes that you can't get in any restaurant, at least not in the Netherlands. I could never pick a favorite, because I really do just love it all. I'm getting hungry just thinking about it!
Do you cycle in China?
I haven't ridden a bike in China yet, but it's something I'd really love to do. Although I think I would appreciate a crash course-no pun intended-in the rules for cycling in China before I just jump on a bike and go. In fact, I'm going to add that to my to-do list for the next time I'm here.
CV
Age: 45
Nationality: Dutch
Career:
2016: CEO of Booking.com
2011: COO of Booking.com
2002: Joined Booking.com
1998-2002: Product manager/marketing manager/director of sales at Golden Tulip Worldwide
1993-96: Management trainee and restaurant manager
Education:
Hotel School Middelburg
Family: Married with three children Hobbies: Traveling, listening to music