Ford installs Chinese chief to keep pace with local market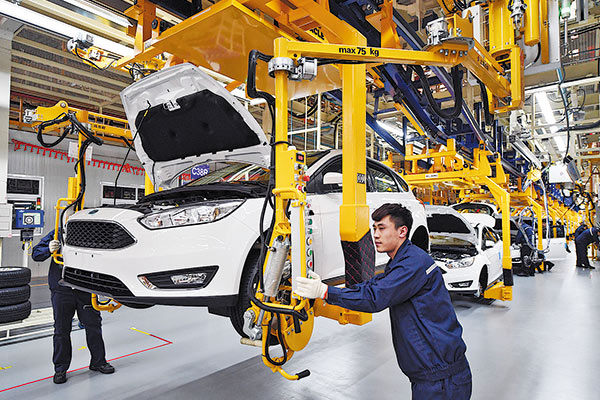 Workers assemble cars at a Ford production line in Harbin, Heilongjiang province.[Photo by Liu Yang/China Daily]
Ford Motor Co is poised to accelerate in China now that the United States carmaker has put in place a Chinese-speaking chief to better gauge the pulse of the world's largest auto market.
Ford will offer products and services that better meet local demands, become faster in its response to market changes, and explore smart mobility and new energy cars, said Ford China President and CEO Jason Luo, who was born and raised in China.
Before he was appointed in September to head the carmaker's China operations, Luo was CEO of Key Safety Systems, the world's fourth-largest airbag-maker by sales.
"As you know, young people have strong demand for personalized items, so offering personalized cars and services will be a focus in our job," said Luo. For example, he expects all Ford models in China to feature onboard connectivity by 2019.
Ford's recent partnership with Chinese carmaker Zotye is intended to produce economy electric cars that better suit young customers. The 5 billion yuan ($754.4 million) deal, which was signed during US President Donald Trump's visit to China earlier this month, is a key step by Ford towards its vision of a cleaner, more environmentally sustainable future. The US carmaker announced earlier this year at least 70 percent of Ford-branded vehicles sold in China will offer electrified powertrain options by 2025.
A plug-in Mondeo, the first plug-in hybrid to be produced at its passenger car joint venture Changan Ford, was unveiled at the recently concluded Guangzhou auto show. Ford also plans to offer an electric SUV in China in five years.
Luo said Ford will make some exciting moves in 2018, including introducing the Ranger pickup into the Chinese market. The Ranger follows the F150, which has been well received after its entry into China in April.
"We have sold more than 800 vehicles so far. That is something we can take pride in for a high-performance pickup," said Luo.
Ford's premium arm Lincoln will prepare itself to localize an SUV model in 2019 at Changan Ford.
SUVs are the sole growing segment in China this year, and Lincoln has been the fastest-growing premium brand so far in the market.
It sold 45,729 vehicles in the first 10 months of 2017, surging 85 percent year-on-year.
Ford is also planning some moves in the commercial car market, which has been dominated so far by local carmakers.
Luo said the company will do something in terms of mobility and smart logistics, and reshuffle its current lineup. He added that Ford is also considering moves in the car segment.
"We will definitely introduce new cars to better serve the market. In fact, we are speeding up not only in product offerings but also in investment," said Luo.
Ford's 680 million yuan testing center in Nanjing, Jiangsu province, opened on Friday.
It is the first whole car testing center the carmaker has built in the country. Ford said it will speed up the development of cars to better meet the needs of customers in China and even Asia as a whole.