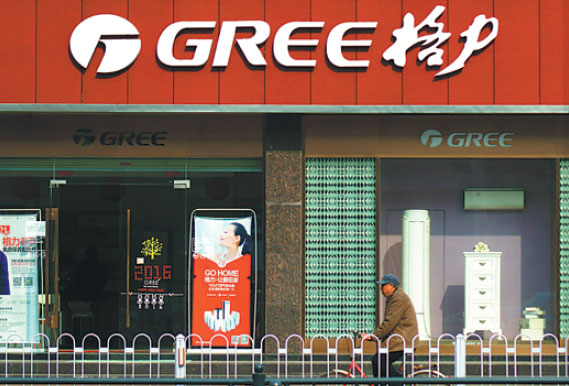 A person passes by a Gree outlet in Yichang, Hubei province. Zhou Jianping / For China Daily
Major Chinese home appliances and air conditioner maker Gree Electric Appliances Inc announced on Tuesday it will buy all the shares of a new-energy vehicle manufacturer, in a strategic move aimed at diversifying its business base.
Under the terms of the deal, Gree, based in Zhuhai in Guangdong province, will issue new shares worth of 13 billion yuan ($1.96 billion) to buy Zhuhai Yinlong Energy Co, which focuses on research and development of lithium-ion batteries and new-energy vehicles.
Gree President Dong Mingzhu said the acquisition will help boost the company's competitiveness in core technology, especially in the emerging new-energy industry.
"Yinlong's advanced technology in energy storage and new-energy vehicles were taken into serious consideration before we launched the plan to buy the company," Dong said at a news conference at Gree's Zhuhai headquarters.
Yinlong raised 3.2 billion yuan through two rounds of equity financing in 2015, helping greatly expand its production capacity to 10,000 new-energy buses annually, according to the company.
Yinlong has built three production sites in Zhuhai, and Handan and Shijiazhuang in Hebei province, and has a new-energy bus service, which already covers more than 20 cities.
"Yinlong's core technology in batteries, especially in energy storage, is of great importance to boosting development of Gree's traditional electric products," Dong said.
She added that with Gree's years of market development in home appliances, sales of Yinlong's new-energy vehicles were expected to increase dramatically.
The acquisition is yet to be approved by authorities, with no timetable set for the final acquisition, the Gree chief said.
According to sources within Gree, Yinlong's net profits should be no less than 1.4 billion yuan by 2018.
In addition to bus production, Yinlong also plans to launch new-energy cars in the near future, said its Chairman Wei Yincang.
"Production of electric SUVs and other varieties are already on the agenda. We have made breakthroughs in core technology of new-energy vehicles," Wei said.
Yinlong owns the core technology of lithium-titanate or LTO batteries material manufacturing, which improves the material capability for fast-charging, shortening the full-charge time to 6 minutes.
"The LTO battery is no doubt the new solution, also the new and upgraded generation among all Lithium-ion batteries for electric vehicles and energy storage," said Wei.