Amid a slump in air-conditioner sales, firm is working to develop emerging businesses
Gree Electric Appliances Inc, a major Chinese home appliances maker, will develop more product lines and activities amid a sharp drop in its core operations.
Sales of its air conditioners, the company's staple since launching in 1991, fell last year by nearly 30 percent year-on-year to 83.7 billion yuan ($12.9 billion; 11.2 billion euros), according to its annual report.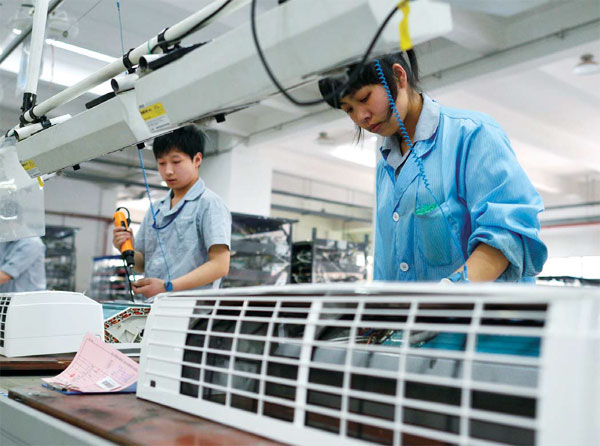 Workers at Gree Electric Appliances Inc's industrial park in Wuhan, Hubei province, assemble air conditioners. CFP
After the slump, Gree's overall revenue and net profits fell 29.04 percent to 97.75 billion yuan and 11.46 percent to 12.53 billion yuan respectively, the report says.
Last year's performance was in sharp contrast to the period from 2012 to 2014, when annual sales grew by nearly 20 billion yuan.
Despite a slowdown in electric home appliances, Gree says it will make more efforts to develop emerging businesses, including new energy, smart home products, industrial products, smartphones and intelligent equipment.
Dong Mingzhu, the company's president, said in an earlier interview that the market for air conditioners "needs to be reconstructed after expansion in previous years".
Gree's dramatic sales drop is in line with nationwide market conditions, however.
Domestic makers sold about 106 million air conditioners last year, down 8.6 percent compared with the previous year, according to an industry report.
Midea Group, based in Foshan, Guangdong province, reported a 2.28 percent year-on-year drop in sales to 138.4 billion yuan.
Haier Group, a leading producer of white goods headquartered in Qingdao, Shandong province, was also hit hard, with sales falling 7.41 percent year-on-year to 89.7 billion yuan.
Based in Guangdong's Zhuhai, Gree was forced to reduce its prices last year, with some items being cut by as much as 1,000 yuan, Dong said. "The (revenue) drop is partly attributed to an adjustment in air-conditioner pricing and large rebates being offered to sales agents."
She said the planned emerging businesses are based on the company's already-strong capabilities in self-developed home appliances technology, especially its air conditioners, which have proved highly competitive in both domestic and overseas markets.
"It's a natural process for Gree to diversify its products, as it has already developed a series of strong core technologies and efficient market channels over the years."
Gree began testing its smartphones early last year, and the second generation will be launched soon in China, the company says.
The company has also acquired a Zhuhai energy company, with the aim of developing new energy vehicles.
qiuquanlin@chinadaily.com.cn