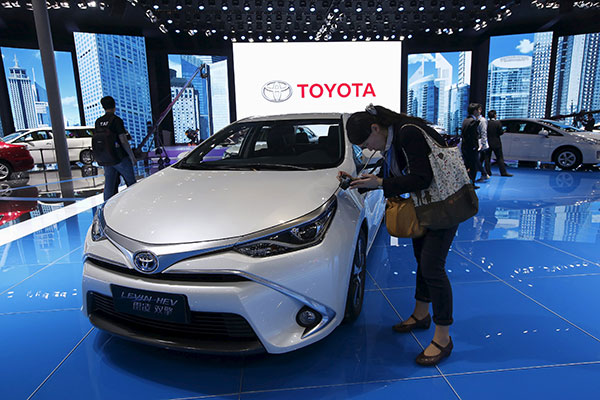 A woman takes a photo of a Toyota Levin HEV at the 2015 Shanghai Auto Show. Toyota is the latest carmaker to warn about a slowdown in the world's biggest auto market. [Photo/Agencies]
Automaker slashes forecast for full-year deliveries in China
Toyota Motor Corp warned of tougher competition in China and raised its forecast for sales in Japan as it reported quarterly profit that beat analyst estimates.
Net income in the April-to-June period rose to 646.4 billion yen ($5.2 billion), exceeding the 617.1 billion yen average of 12 analysts' estimates compiled by Bloomberg.
Operating profit trailed estimates and Toyota cut its full-year delivery forecast by 30,000 units to 10.12 million. The annual profit forecast was left unchanged.
Toyota has outpaced the industry in China this year, boosting deliveries by 12 percent in the world's largest auto market even as competitors like BMW consider revising their profitability goals amid slowing demand.
A weaker yen has helped soften the blow from declining deliveries in Japan and Southeast Asia, which helped lead to Volkswagen AG inching ahead as the world's largest automaker by sales.
"The sales expenses have gone up and also the sales prices have come down slightly," Tetsuya Otake, a Toyota managing officer, told reporters in Tokyo on Tuesday. "This is making our business in China quite difficult. The business environment is getting tougher."
BMW lowered production by 16,000 cars in China, its biggest market, Chief Financial Officer Friedrich Eichiner said.
After a stock market rout discouraged customers from making large purchases, those still buying are demanding bigger price cuts, he said.
Trailing Volkswagen
Toyota said last week that it sold 5.02 million vehicles in the six months through June, trailing the 5.04 million that Volkswagen reported weeks earlier. Deliveries declined 1.5 percent for Toyota and 0.5 percent for Volkswagen.
While Volkswagen may have surpassed Toyota by sales during the first half of the year, the Japanese carmaker still leads the industry in profits. Analysts project the company may earn about $26 billion in operating profit for this financial year, almost double the $14.8 billion estimated for Volkswagen.
Toyota used conservative currency assumptions in maintaining its profit forecast. The company is assuming an exchange rate of 117 yen per US dollar, even though it said the rate was 121 yen during the last three months.
"It is a decent result," Kentaro Hayashi, an analyst at Tachibana Securities said. "There is still room to revise earnings once again later this fiscal year given the currency rate."
Toyota told workers in Japan in June that it would be "very difficult" to meet its annual sales target due to weak demand in emerging markets.
In a union newsletter, managing officer Yoichi Miyazaki said the company must make up for the shortfall by boosting sales in developed markets and asked for the cooperation of Japanese workers in handling the increased workload.
Toyota last week boosted its forecast for Japan production this year by 80,000 vehicles to 4.05 million. It also raised its projection for sales in the country by 35,000 vehicles to 2.14 million.
While Toyota President Akio Toyoda is ending what he described as an intentional pause by building car factories in Mexico and China before the end of the decade, it will take a few years before the new production capacity outside Japan is ready.
Toyoda, 59, imposed a temporary ban on new assembly plants in 2013 in a push to be more efficient. The company said earlier this year it will spend about $1.4 billion to build factories in Mexico and China, adding about 300,000 vehicles of production capacity by 2019.
Toyota said it will begin production of another new assembly line in Tianjin by mid-2018. While that expansion will allow the company to make another 100,000 vehicles per year, this will be mostly offset by ending output on an existing assembly line in China.