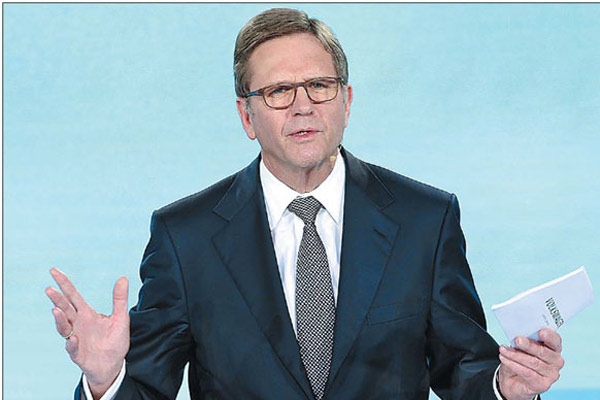 Jochem Heizmann, Member of the Board of Management of Volkswagen Group, President and CEO of Volkswagen Group China.
At a media workshop held before the 2014 Guangzhou Auto show that opens on Thursday, Volkswagen Group China emphasized in its commitment to "be the most sustainable car manufacturer in China".
With innovation and efficiency keys to a sustainable lifestyle, the carmaker focuses on efficient products, energy-saving production and social responsibility, said its senior executive.
"We understand the fundamental importance and assume our responsibility," said Jochem Heizmann, member of the Board of Management of Volkswagen Group as well as president and CEO of Volkswagen Group China.
"As an important player in the auto industry, it's essential to anticipate all aspects of megatrends and integrate those insights into our strategy," Heizmann said, adding that one of the most influential of those is sustainability.
With ecological, social and economic aspects, "sustainability is not only a part, but the basis, of our strategy", the president said.
"Efficiency is the key to sustainability. We utilize all possible technical solutions to reduce fuel consumption and carbon dioxide emissions substantially," he noted.
Volkswagen Group views environmentally compatible production as crucial to sustainable growth, the CEO said, so the group's newest and most efficient models will be produced in an environmentally friendly way.
With a holistic approach, the group is making the largest investment in Chinese automotive history for innovations in eco-friendly technology - made in China and made for China, Heizmann said
Worldwide the group's Chinese plants are known for outstanding quality and high environmental standards, including the consistent reduction of energy consumption and emissions along the entire lifespan of its vehicles.
The Volkswagen automatic transmission plant in Tianjin has an advanced facility that reduces wastewater by up to 95 percent. The use of natural daylight and LED lighting almost halves power consumption.
The same high standards are applied in all new Volkswagen plants in China, including those under construction in Changsha, capital of Hunan province, where a new factory is set to start operation next year, and in Qingdao, a coastal city in Shandong province.
All possible technical solutions form the Volkswagen Group Efficiency Strategy - aerodynamic measures, lightweight design, high performance combustion systems with low consumption and eco-friendly gearboxes, as well as alternatives like neighborhood electric vehicles.
The new DQ380 transmission in combination with the newest EA888 generation, produced in Changchun and Shanghai, reduces fuel consumption by half a liter per 100 kilometers.