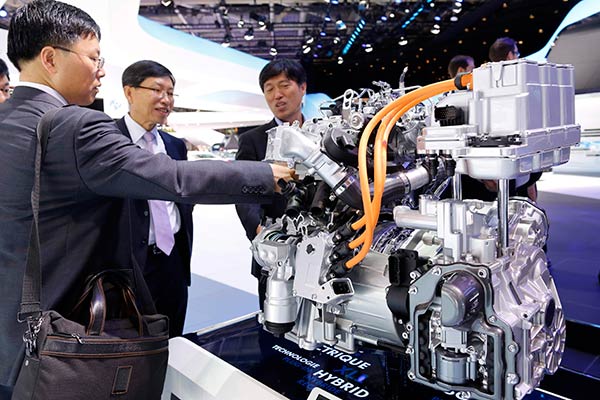 Visitors look at a Volkswagen DSG 7 engine displayed during the media day at the Paris Mondial de l'Automobile, Oct 3, 2014. [Photo / Agencies]
TIANJIN - A Volkswagen solely invested automobile parts plant opened in the northern Chinese port city of Tianjin on Tuesday.
With an investment of 265 million euros ($332.75 million), the plant is the 18th built by Volkswagen in China, and will mainly produce a new generation of Direct-shift gearboxes (DSG).
Its annual gearbox capacity will increase from 450,000 this year to 1.2 million by 2016.
Jochem Heizmann, head of Volkswagen Group China, said the plant in Tianjin will open a new chapter for Volkswagen to explore and develop the Chinese market.
In the future, the company will offer products with advanced technology and the highest quality to Chinese consumers much faster, he said.
Volkswagen will also establish a testing and analysis center in Tianjin to ensure the DSG quality of its plants in China. Meanwhile, its first automobile parts school outside Germany will be built in the city to train more workers for the factories in North China.
In the first three quarters of this year, Volkswagen Group China, Shanghai Volkswagen and FAW-Volkswagen have delivered more than 2.7 million automobiles, up 15.2 percent compared with the same period last year.