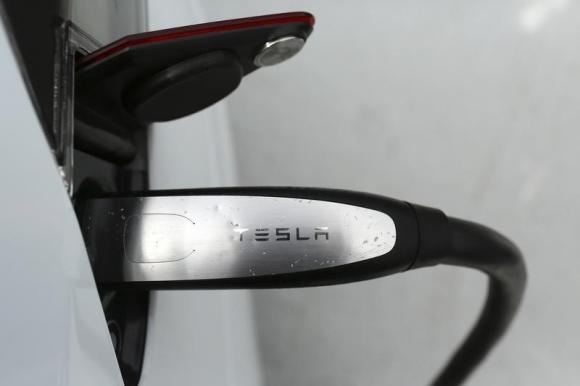 A Tesla Model S is charged at a Tesla Motors dealership at Corte Madera Village, an outdoor retail mall, in Corte Madera, California May 8, 2014.[Photo/Agencies]
US electric carmaker Tesla Motors said on Friday that it would partner with China's No 2 mobile carrier China Unicom to build charging outlets across the country to push sales in the world's biggest auto market.
The companies have signed a deal to build charging posts at 400 China Unicom stores in 120 cities, and will also set up super-charging outlets in 20 Chinese cities, Tesla's China spokeswoman Peggy Yang said.
Tesla's billionaire co-founder Elon Musk has said he expects to invest hundreds of millions of dollars building charging outlets in China as the company seeks to compete more effectively with foreign rivals such as BMW and Daimler AG and address Chinese customers' complaints about belated product delivery.
"The deal represents our biggest investment so far in charging facilities in China," Yang said in a telephone interview.
Tesla previously struck deals with Chinese property developers including Soho China Ltd and China Yintai Holdings Ltd to build charging outlets.
A shortage of charging facilities has long been considered a major roadblock to electric car sales in China, endangering Beijing's ambition to put 5 million green vehicles on the road by 2020.
By linking up with China Unicom, which has stores nationwide, Tesla can quickly service customers in most parts of China. Tesla began delivering its Model S sedans in Beijing and Shanghai in April.
The charging service will be for free and is only available for Tesla vehicles, according to the Tesla China spokeswoman.
Rival BMW will deliver its electric sedan i3 and plug-in hybrid i8 sports car next month, while Daimler will launch premium electric car Denza later this year jointly with Chinese carmaker BYD Co Ltd.