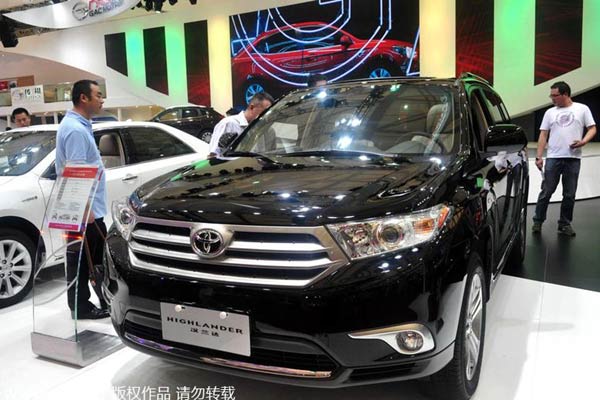 Visitors look at a Toyota Highlander during the 15th Shanghai International Automobile Industry Exhibition, known as Auto Shanghai 2013, in Shanghai, China, April 29, 2013. [Photo / IC]
BEIJING - Japanese automakers continue to enjoy robust volume growth in China, regaining some of the market share lost following a diplomatic dispute over the Diaoyu islands in September 2012, a report by rating agency Fitch said Tuesday.
The popularity of existing and new models is set to support solid growth in sales volumes for the top three Japanese automakers in the second half of 2014, namely Toyota, Honda and Nissan, according to Fitch.
The Japanese manufacturers, however, will have to face heightened competition from other international automakers which dominate the world's largest car market, to cope with a slowing of sales momentum in the second half of the year.
Fierce competition remains from market leaders such as Volkswagen and General Motors, as well as from Ford and Hyundai. The major European, Korean and US automakers continue to expand their presence in China to capitalize on strong long-term growth prospects, Fitich said.
In the first half of this year, China's passenger car market grew to 9.6 million units, up 11.2 percent year-on-year.
According to statistics from automotive news portal auto.gasgoo.com, Japanese brands sold about 1.46 million cars in the first half, up 15.5 percent from the same period last year.
They had a combined market share of 16.5 percent in the first half of this year, a slight increase from the 16.4 percent for the same period of 2013 but still short of the over-20-percent level before the 2012 islands dispute.
Nissan, Toyota, Honda, Suzuki and Mazda all reported a year-on-year increase of more than 10 percent in the first six months.
Breaking it down, Nissan's sales volume rose 14 percent, lifting its market share to around 6 percent, while Toyota and Honda maintained their market shares of around 5 percent and 4 percent, respectively.
Fitch said it expects the double-digit growth in China's passenger car market to balance out in the second half to mid-to-high-single digits, as Chinese economic expansion slows. Regulatory factors could further temper market growth, such as more stringent environmental legislation.
Nevertheless, passenger car demand in China is set to remain solid over the medium term, it said.