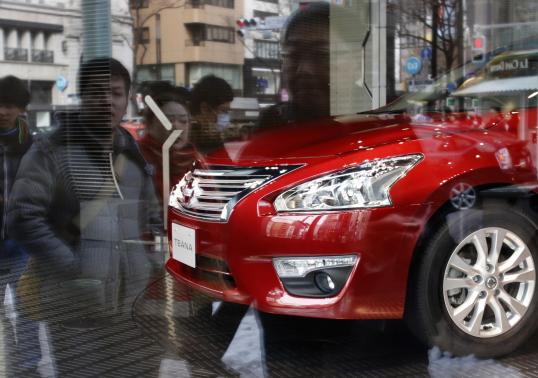 Nissan Motor's Teana sedan is displayed as pedestrians are reflected in a window at the company's showroom in Tokyo Feb 10, 2014. [Photo / Agencies]
Nissan Motor Co could sacrifice its global market share goal to reach its mid-term profitability target after slower-than-expected sales in its biggest markets left its profit margin the tightest among Japanese car makers.
Nissan's six-year plan ending 2017, in which it aims to boost its market share to 8 percent from 6 percent, has been shaken by a Sino-Japanese diplomatic dispute knocking sales in China, and manufacturing difficulties hitting US product launches.
Japan's second-largest carmaker by global sales volume after Toyota Motor Corp also aims for operating profit equivalent to 8 percent of revenue by March 2017 through scaling back buying incentives in the United States and cutting costs with alliance partner Renault SA.
true Nissan, on reporting an 18.4 percent rise in April-December net profit on Monday, said its nine-month operating margin was 4.1 percent, down from 4.5 percent a year earlier. That compared with 6.6 percent at Honda Motor Co and 9.7 percent at Toyota.
"If we can meet our 8 percent profitability target, then it is fine if the share is a little lower and the company is moving to emphasize profitability," Corporate Vice-President Joji Tagawa told reporters after Nissan released earnings.
The quarterly net profit growth was the steepest in almost two years as a weaker yen allowed Nissan to convert money made overseas at a more favorable exchange rate, and as sales improved in China where some consumers boycotted Japanese goods following a territorial row in September 2012.