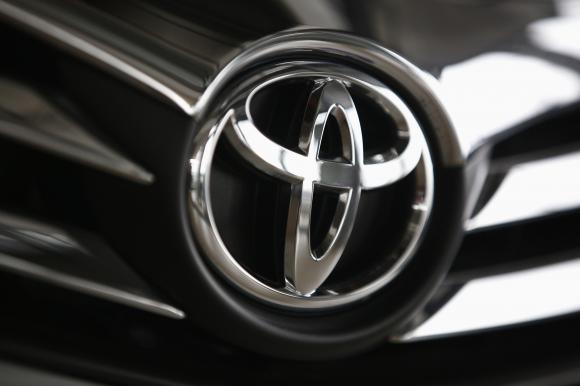 A Toyota logo is seen on a car inside a showroom at a Toyota dealership in Warsaw April 11, 2014. [Photo/Agencies]
Toyota Motor Corp has developed a computer chip for its gas-electric hybrid cars that could boost fuel efficiency by 10 percent and allow the automaker to install the hybrid system on more of its vehicles.
The maker of Prius hybrids and auto parts maker Denso Corp have jointly developed a semiconductor using a silicon and carbon compound that limits power loss and allows for a smaller hybrid system, Toyota said on Tuesday.
"A key way to improve fuel efficiency is to improve power semiconductor efficiency," Kimimori Hamada, a Toyota engineer, told a media briefing.
Toyota's push in semiconductors highlights how carmakers' competitiveness is increasingly tied to electronics rather than to traditional mechanical engineering.
It also reveals the scope for further improvements in gas-electric hybrid technology nearly two decades after Toyota led the market with the launch of the Prius in 1997.
The new chip's silicon carbide compound is already used in computer chips in trains and air conditioners, but this is its first use in automobile power chips, Toyota said.
The battery of a hybrid vehicle captures energy from braking that can aid the combustion engine and improve mileage. The Power Control Unit (PCU) supplies electrical power from the battery to the motor when the car is running and charges the battery when the vehicle is braking.
Inside the PCU are power semiconductors, currently made from silicon, that control the flow and the direction of electric current.
The silicon carbide chip reduces the amount of current lost as heat and switches the current flow on and off more efficiently, although costs are an issue. The silicon carbide chip costs at least 10 times more than silicon, Hamada said.
About 20 percent of electrical power loss in hybrid vehicles is currently associated with power semiconductors, he said.
The new chips will allow Toyota to cut the volume of the PCU to one-fifth the current size and reduce the weight to about 4 kg from 18 kg, Keiji Toda, a Toyota engineer, said.
The size and weight reductions would save fuel and potentially widen the range of cars that could be fitted with a hybrid system, Toda said.
Toyota, which has achieved 5 percent gains in fuel efficiency on prototype vehicles, plans to start installing the chips in its cars around 2020, Hamada said, although it does not expect to immediately achieve the targeted 10 percent fuel savings.