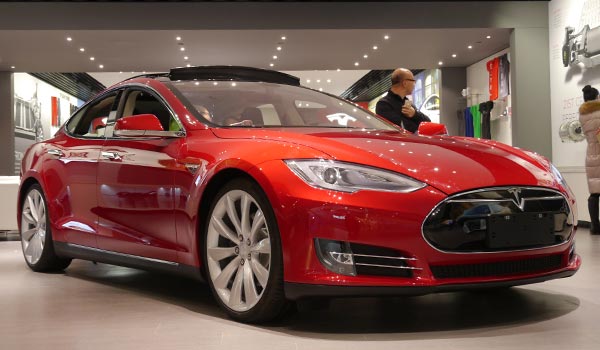 A Tesla Model S electric car P85 Performance version is pictured on Feb 5, 2014 in the company's Beijing Showroom. [Hao Yan/chinadaily.com.cn]
Tesla Motors Inc has started offering its Model S 60 kWh cars, the standard Model S version, in the Chinese market, China Economic Net reported on Tuesday.
Following Model S 85kWh and Model S 85kWh Performance, it is the third, also the last, Tesla Model S to enter the Chinese market. With the price starting from 648,000 yuan ($10,400), higher than the $63,570 shown on the company's US website it is an enhanced version of the two previous models. It can go up to 390km once fully charged.
Tesla said it is committed to building more supercharger stations in China in order to make it convenient for its customers. These super stations can provide continuous charging with battery pack and with electricity supply of power grid and solar energy.
So far, the company has already set up two supercharger stations in Shanghai. Another one in Wangjing, a community in Beijing, will start functioning soon.
With electric car customers increasing in China, the company is planning to establish more charge stations around office buildings, shopping malls and residential buildings.
Tesla in search of deal with Sinopec
Access to Tesla cars only a password away, researcher says
No 'defect trend' found in Tesla Model S sedans: NHTSA
Smaller, cheaper EVs may trump pricey Teslas