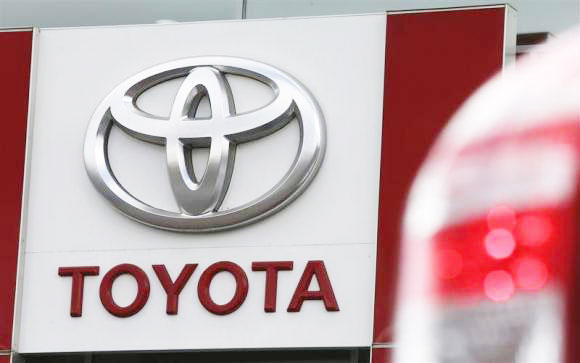 A sign with a logo is on display at a Toyota car sales and showroom in St. Petersburg, Sept 18, 2013. [Photo/Agencies] 
Toyota Motor Corp has alerted US safety officials that seat material in several vehicles, including its top-selling Camry sedan, fails to meet fire retardation standards and could result in a recall.
Toyota said on Thursday it had stopped selling eight recent-model vehicles equipped with seat heaters in North America following an advisory about fire risk from South Korean safety officials. The world largest automaker said it did not believe a recall was necessary, however.
South Korea applies the same fire retardation standards as those used in the United States, where the cars were built starting in August 2012. Some of the US-built models were exported to South Korea.
true The Japanese automaker said there have been no reports of fires or injuries related to the problem. The safety standard requires a certain burn rate as a flame moves across the seat heater's cloth pad.
Toyota said the number of affected vehicles at its US dealers totaled about 36,000, or about 13 percent of dealer inventory, but that does not include vehicles in transit to dealers or those already sold to consumers.
From late 2009 to early 2011, Toyota recalled nearly 19 million vehicles globally related to unintended acceleration claims. In 2010, Toyota President Akio Toyoda apologized for the company's handling of the recalls and said he would insist on customer safety first.
Toyota was fined $17.35 million in December 2012 for being slow on a recall, still the single highest civil penalty ever paid to the US National Highway Traffic Safety Administration for violations stemming from a recall.
In July 2013, a US judge approved a settlement valued at more than $1.6 billion to resolve economic-loss claims resulting from the alleged safety defects. The company is still trying to settle related personal-injury lawsuits.
The US safety agency said it was aware of the upcoming petition and would seek public comment once it had been filed.