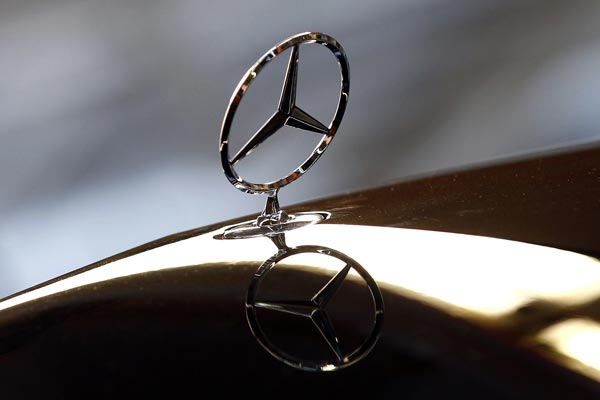 An emblem of German car Mercedes-Benz at the production line of the Mercedes-Benz S-class in Sindelfingen near Stuttgart January 24, 2014. [Photo / Agencies]
German automaker Mercedes-Benz Shanghai office has been searched by anti-monopoly officials on Monday, China Finance Information reported Tuesday.
Investigators, sent by China's antitrust regulator, the National Development and Reform Commission, visited the automaker's Shanghai office and inspected several office computers, the report said.
It also said that almost all the staff there was questioned and several top management leaders were questioned until 21:00 pm.
The unexpected probe reportedly targets Mercedes-Benz's car price policies and price floor imposed on dealerships in China, said the report quoting people familiar with the matter.
The company has not confirmed the news yet. But an insider said to China Daily website that it is preparing a statement on the issue.
Under pressure from Chinese antitrust regulator's monopoly concerns, Mercedes-Benz was the first to officially reduce the cost of after-sales for its major models by launching its Start Maintenance Menu earlier on July 1.
Covering both smart cars and Mercedes-Benz models, including the A-, B-, C-, E-, GLK-, M-, R-, and S-Class, the cost of maintenance will be cut by 20 percent on average and the reduction for some specific models could be as much as 50 percent.
Then on Sunday, the German automaker announced that it will cut the prices of spare parts by an average of 15 percent in after-sales maintenance for all models from Sept 1.